Minister of State for Grand Bahama Kwasi Thompson addressed members of the official Tech Hub Steering Committee, which held two days of deliberations at the Grand Lucayan resort, December 14-15.
After giving his prepared remarks, Minister Thompson said: "As you make your recommendations, I want you to be specific, I do not want this to be a report that goes on a shelf…I want this to be a real working plan and plan of action which the government can take, approve and implement."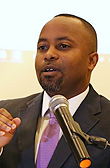 Minister Thompson (pictured) told the committee of tech and computer experts that they are inn position to do something that has never before been done in The Bahamas.
The Tech Hub Steering Committee comprises a wide range of professionals from the technology world as well as business, marketing, and accounting.
Members include professionals from the Silicon Valley, Florida, and other parts of the US, as well as from the US.
The committee's main objective is to brainstorm, come up with recommendations on what it will take to turn Grand Bahama into a tech hub, and then present those findings to the government.
Grand Bahama hosted its first Technology Summit earlier in the year.
Minister Thompson said establishing Grand Bahama as a tech hub is something that is necessary for Grand Bahama, specifically, and The Bahamas, as a whole.