The Baha Mar resort on Cable Beach has welcomed 300 new employees, as SLS Baha Mar opens its doors to hotel guests for the first time, along with three new culinary and cocktail outlets: Cleo, Monkey Bar and Bungalow Pool Bar & Grill.
Following SLS Baha Mar's soft opening November 7, the first hotel guests started arriving this week, and reservations are now live on the website.

An official ribbon-cutting ceremony will take place on November 17, 2017.
SLS Baha Mar features 299 rooms and suites.
"The opening of SLS Baha Mar signifies the official completion of phase II and the progress we are making towards our grand opening in 2018," said Graeme Davis, president of Baha Mar. "We extend the warmest welcome to our newest employees, and look forward to introducing guests to the stunning SLS Baha Mar."
Earlier this month, Baha Mar launched Life Spectacular, the inaugural multi-million-dollar global advertising and marketing campaign, officially introducing the resort destination to future guests.
Currently at 3,000 employees, Baha Mar will increase the number of associates to 4,000 by the end of this year.
Phase III of Baha Mar's opening will take place in spring 2018 with the opening of Rosewood Baha Mar.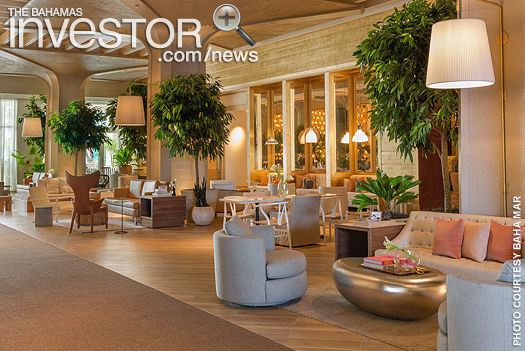 Pictured: SLS Baha Mar's foyer. (Photo courtesy Baha Mar)