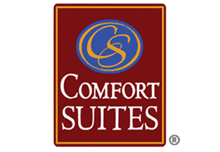 Providing an update during the recent Caribbean Travel Marketplace in San Juan, Puerto Rico, Yasmine Mills-Strachan, director of sales for Comfort Suites Paradise Island, reported that the hotel fared especially well over the Christmas holidays and she continues to receive encouraging feedback from travel partners.
"We currently have attractive promotions in the marketplace and, as a result, have been able to consistently maintain solid ground," she added.
Tia Forbes, director of revenue and informational technology, who also was in Puerto Rico for the Caribbean Hotel and Tourism Association's flagship event, noted that advanced bookings are encouraging.

"We are a very unique hotel, a distinctive nugget of Paradise Island," Mills-Strachan underscored, explaining that the hotel offers all of the recognizable amenities of Choice Hotels, including free WiFi, a daily complimentary full American breakfast buffet available to all guests and free parking.
Comfort Suites guests enjoying the restaurants, bars and lounges at the adjacent Atlantis Paradise Island can charge consumption to their rooms.
"This puts us in a very special position," she noted.
In addition the hotel's in-house value-added amenities, guests at Comfort Suites Paradise Island also have access to Atlantis' 11 pools, three beaches and one of the largest water parks in the Caribbean region. Altogether, the 141-acre Atlantis resort offers 20 spots for swimming.
At Comfort Suites Paradise Island, the ownership team has spent in excess of $11 million upgrading the product in recent years, and guests can now experience its newly rennovated pool deck.
"The entire deck, pool and pool areas have been resurfaced, retiled and redone. We have acquired new pool furniture, new and comfortable restaurant furniture in our outdoor veranda spaces, and our pool bar has been rebranded and relaunched as the Splash Pool Bar," Mills-Strachan said.
Responding to questions about new competition from Baha Mar and other resorts on Cable Beach, she pointed to the unique value proposition of the hotel, especially for families.
"Our property is well suited for family travellers because kids stay, play and eat free. Children 11 years and under are able to stay free in any of our junior suites with a paying adult," she explained.