The Securities Commission of The Bahamas is hosting the 12th Annual Caribbean Group of Securities Regulators (CGSR) Conference and Workshop 20-22 April at the British Colonial Hilton, Nassau, Bahamas.
It is anticipated that some 45 regional and international delegates and speakers will be in attendance.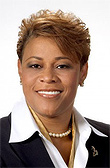 Hope Strachan (pictured), Minister of Financial Services, brought the keynote address at the opening ceremony.
Commission chair Tonya Bastian-Galanis, executive director Christina Rolle and financial sector supervision adviser of the Caribbean Regional Technical Assistance Centre Courtney Christie-Veitch also brought remarks at the opening ceremony.
The theme of this year's conference is Regional Capital Market Development and Regulation. The purpose of the conference and workshop is to engage with Caribbean regulators and share knowledge, ideas, and common experiences to develop and advance the regulation and oversight of regional securities and capital markets.
The Caribbean Group of Securities Regulators was established to create a forum for regional securities regulators to discuss issues facing Caribbean securities and financial markets.