During a meeting between Bahamian Prime Minister Perry Christie yesterday, Chinese President Xi Jinping announced an agreement that would allow The Bahamas to be a country where international parties can be settle debts.
He also announced an agreement that would allow The Bahamas to trade in Chinese denominated currency, the Renminbi (RMB) Chinese yuan.*
*The Bahamas Investor apologizes for the error replicated from our source regarding RMBS.
According to the government, the financial services sector stands to benefit substantially from the introduction of this new financial product and service, making The Bahamas only one of three countries in the world where RMB transactions can take place.
The Prime Minister and his ministerial delegation are in China this week to attend the China/CELAC Forum in addition to pursuing a number of projects and initiatives on behalf of the Bahamian people.
These projects include a reciprocal air services agreement involving Air China and Bahamian registered airlines; an indoor stadium for youth development; an agreement on technical and research cooperation between the Bahamas Agriculture Marine Science Institute (BAMSI) and China's Ocean University, as well as other investment opportunities.
The delegation is due back in Nassau January 11.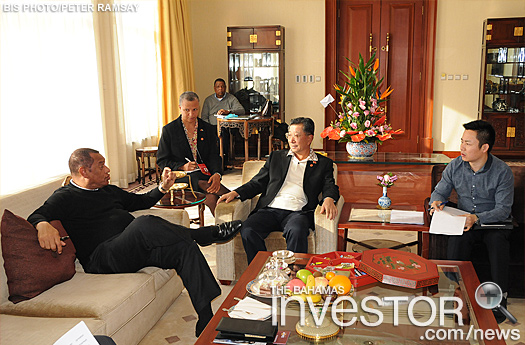 Prime Minister Perry Christie, left, talks with Ambassador of the People's Republic of China to The Bahamas Yuan Guisen, centre, at Diaoyutai State Guest House in Beijing January 7, 2015. (BIS Photo/Peter L Ramsay)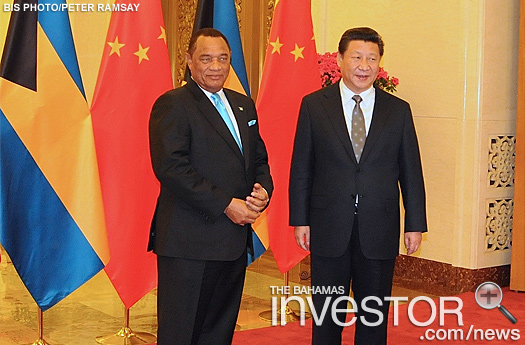 Prime Minister Perry Christie and the President of the People's Republic of China, Xi Jinping, meet in the Great Hall of the People January 7, 2015. (BIS Photo/Peter L Ramsay)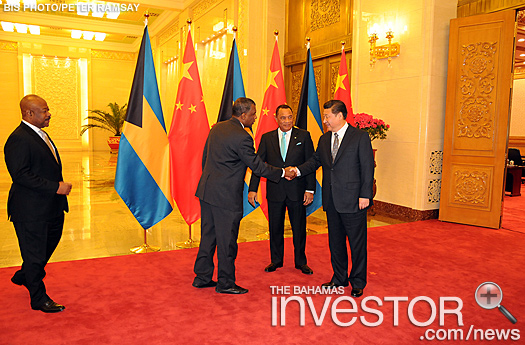 Prime Minister Perry Christie (third from left) is pictured introducing his ministerial delegation to the President of China, Xi Jinping, at the Great Hall of the People in Beijing January 7, 2015. Foreign Affairs Minister Fred Mitchell, second from left, shakes hands with the President. Tourism Minister Obie Wilchcombe is pictured far left. (Photos courtesy BIS)