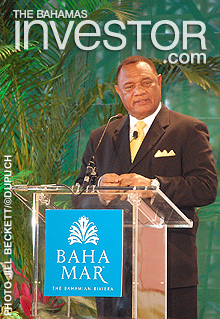 Baha Mar executives and staff, dignitaries and artists attended the topping off ceremony of Baha Mar's 25-storey casino hotel yesterday.
The building will be the largest in the $3.5-billion mega resort complex on Cable Beach on New Providence.
Attendees at the ceremony included Prime Minister Perry Christie, Minister of Tourism Obie Wilchcombe, Chinese Ambassador to The Bahamas Wu Shan, and singer and founder of Kravitz Design Lenny Kravitz.
The milestone has been reached two years after the groundbreaking ceremony February 21, 2011.
Executive vice-president of one of the major investors in the project, the China State Construction and China Construction America (CCA), Tiger Wu, addressed the event saying that it was an important point in the project's development.

He added that the Baha Mar project is a significant one for CCA "not only because of its size and scope, but also because of its beauty and global reach."
"There is a Chinese proverb that is particularly relevant today and it says: A single beam cannot support a great house," said Wu.
"We have worked together; one team, one dream to bring Baha Mar on time and on budget. Over 6.6 million pounds of steel, 26,000 tonnes of rebar and over 260,000 cubic yards of concrete have been used to create this masterpiece. Working together, we will continue to build not only the most beautiful resort in the world, but also a place that has a global heart and a diverse culture embedded in it, from its deepest foundation to its highest tower."
Baha Mar president Tom Dunlap thanked the Baha Mar team and spoke of his 30-year history in the construction and resort development industry with projects "all around the world and in many wonderful locations," adding that this was one of the high points of his career.
He went on to explain that topping off ceremonies signify a "genuine gratitude" for reaching a milestone through engineering, dedication and physical hard work.
Baha Mar chairman and chief executive officer Sarkis Izmirlian recalled how he felt "elated and redeemed" on the inital groundbreaking day in February 2011, following several years of set backs and false starts.
"It is not often we get second chances, and when we do we must recognize their value, the lessons learned and, with humility and diligence, get back to work."
Izmirlian acknowledged the work of China State Construction and nearly 400 local firms "who have put almost 2,000 Bahamians to work restoring the beach, building roads, and creating the new Jack Nicklaus Signature golf course."
Prime Minister Perry Christie also spoke at the event, remarking on the progress that Baha Mar development has made since the initial agreement was signed during his first term in office several years ago.
Christie noted that the Izmirlian family invested an enormous amount of money in developing Baha Mar and seeing the project come to fruition. He also noted that Baha Mar is "the largest investment project ever undertaken in this region."
Several initiatives were also announced at the ceremony including the launch of the Baha Mar Believe Foundation, which will see a $1-million philanthropic commitment to Bahamian education and health; a partnership between the National Art Gallery of The Bahamas, the D'Aguilar Art Foundation and Dawn Davies Collection, which will oversee the curation of art throughout the Baha Mar resort; and a collaboration with Lenny Kravitz's design firm Kravitz Design, which will design a unique villa and nightclub at the resort.
gbeckett@dupuch.com