Source:
Date:
Updated:

One&Only Ocean Club
Wednesday, December 9, 2015
Wednesday, December 9, 2015


PARADISE ISLAND, Bahamas, December 2015 /PRNewswire/ — Long recognized as one of the world's most exclusive resorts, One&Only Ocean Club is proud to unveil resort-wide enhancements that raise the bar on ultra-luxury in the Caribbean. During the five-month, multi-million dollar renovation, accommodations in the historic Hartford Wing were given a complete redesign and the new infinity-edge Ocean Pool and Ocean Pool Grill, were added, providing guests with the ultimate beachfront experience.

The extensive renovation, a collaboration with HKS Architects (HKS) and Jeffrey Beers International (JBI), showcases a commitment to detail and quality, and highlights the magnificent views and surroundings of the resort. The redesigned Hartford Wing blends the glamorous ambience and exclusivity of the grand colonial manor in the most alluring beachfront hideaway in the Caribbean.
The Hartford Wing
Once the private estate of A&P heir Huntington Hartford II, the Hartford Wing was fully renovated, increasing each accommodation by 110-square-feet to include expansive terraces or balconies, featuring views of the ocean and lush resort gardens—a first in the resort's 53 year history. Each of the Wing's 52 rooms and suites received new, custom-designed furnishings, fabrics and color schemes that amplify the distinctive palette of The Bahamas. The bathrooms were transformed with the addition of Whitewood, as well as Bianco Dolomiti, separate bath and rain showers, and double vanities. The Hartford Courtyard was also redesigned allowing for a luxurious, relaxing lounge. All guests of the Hartford Wing are serviced by the resorts' iconic butlers who assist with every need and whim.
New Beachfront Pool, Bar & Grill
Perched above never-ending views of white sand beaches is the new 125-foot-long, infinity-edge Ocean Pool. Complimentary amenities, offered hourly, by the Pool Concierge team, include house-made lollipops and refreshing spritzers. Alongside the Ocean Pool is the new Ocean Pool Grill, helmed by Resort Executive Chef Gal Kozer. The Ocean Pool Grill's cocktail menu features craft cocktails, and live poolside entertainment celebrates the change of day and spectacular sunset.
As the iconic luxury retreat in the Caribbean, One&Only Ocean Club offers a bespoke experience with the exclusiveness of a private residence. With the new enhancements, the resort remains unrivaled in its offerings including the Versailles Gardens, One&Only Spa, extensive sports, activities, and shopping at NEO boutique.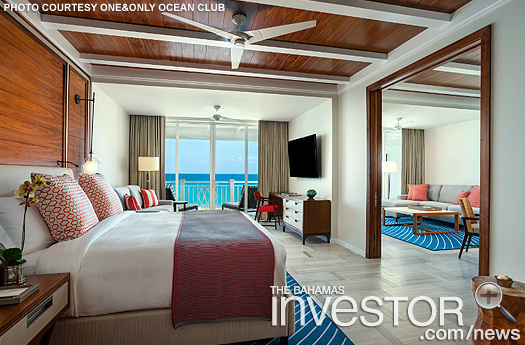 For more information or for reservations, please visit oneandonlyresorts.com or call +1 954 809 2716.