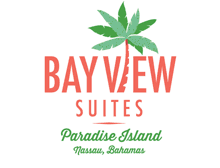 PARADISE ISLAND, Bahamas, November 2016 /PRNewswire/ — On December 1, Bay View Suites Paradise Island will begin welcoming guests after completing a rebranding that includes a new name (formerly the Best Western Bay View Suites) as well as an updated marketing strategy, including a new logo. In addition to the refreshed logo, the new strategy also includes redesigned collateral, the use of Travelclick as a new booking engine, and a fresh URL (BayViewSuitesParadiseIsland.com.) The milestone signifies the hotel's transition to become one of the leading independent properties on Paradise Island.

"Our hotel has a deep commitment to ensuring the highest standard of satisfaction and quality for all of our guests," said Bay View Suites Paradise Island General Manager, Jamal Glover. "This transition to an independent hotel was our chance to further ensure that these values are being met. We are very excited about this milestone and look forward to continued success."
The new logo reflects the hotel's move away from the traditional "Best Western" branding, showcasing that the resort is now an independently run property. The logo design concept has incorporated a palm tree, and has included "Paradise Island, Nassau, Bahamas" to the address line.
The Bay View Suites Paradise Island offers outstanding accommodations at an affordable price, with varying room options including large one-bedroom suites, townhomes and villas that feature fully equipped kitchens and a wide-range of amenities, including complimentary Wi-Fi. The hotel has four acres of private tropical gardens and three swimming pools, as well as well as the on-site restaurant, the Hibiscus Terrace. The hotel is situated in the heart of Paradise Island within walking distance of the Atlantis Paradise Island Resort, the Atlantis Casino and white sandy beaches. The historic downtown Nassau is only minutes away, offering easy access to shopping, dining and sightseeing.