PARADISE ISLAND, The Bahamas, June 2018 /PRNewswire/ — Atlantis, Paradise Island, the lush, oceanside resort located on Paradise Island in The Bahamas, has announced the launch of three new marine programs in tandem with World Oceans Day (Friday, June 8), a global day that honors one of the world's most precious natural resources.
Atlantis is known for celebrating all things about the ocean – from the incredible marine habitats to the 141-acre Aquaventure, a beachside waterscape with jaw-dropping waterslides, pools and a one-mile lazy river and rapids ride fashioned after Xcaret and its winding river formations.

Atlantis also provides guests with one-of-a-kind marine interactions and experiences that simultaneously inspire, give back and are focused on marine conservation, research, education and community outreach. A portion of the cost of the three new programs, as with Atlantis' other marine interactive programs, goes back to the Atlantis Blue Project Foundation (ABPF), the resort's nonprofit, 501(c)3 organization dedicated to saving sea species and their extraordinary habitats throughout The Bahamas and surrounding Caribbean seas.
For the first time this summer, guests ages 10-14 can work side-by-side with the more than 165 Marine Biologists, Veterinarians, Aquarists, Marine Mammal Behaviorists and Water Quality Specialists at Atlantis in a five-day Marine Adventure Summer Camp. The Twilight Snorkel Program allows guests to mingle with more than 20,000 marine animals as the sun sets over the resort's renowned Ruins Lagoon. The Playtime with Sea Lions program welcomes guests to discover the many behaviors in and out of the water of the rescued sea lions who made their home at Dolphin Cay, the 14-acre habitat and education center, after Hurricane Katrina.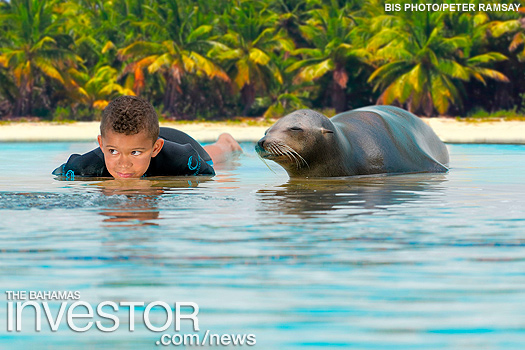 Marine Adventure Summer Camp
On June 25, Atlantis will debut its new "Marine Adventure Summer Camp" for young ocean dreamers (ages 10-14), who wish to transform into "Junior Aquarists," "Sea Keepers" & "Marine Mammal Specialists" and spend time alongside the resort's dedicated Marine Team (who care for over 250 marine species). Each camp session will run for five days and will be led by an Atlantis marine life expert.
Camp Details:
Session Themes (Five Day Program): Monday: All About Water; Tuesday: Sharks, Rays & Bony Fishes; Wednesday: Fish Form & Function; Thursday: Marine Mammals; Friday: Coral Reefs & Invertebrates
Sample Itinerary Experiences: A visit to Atlantis' Coral Reef Nursery & Fish Hospital; Group boat trip and afternoon of snorkeling amongst live coral reefs; Walk with sharks in the Mayan Temple Shark Lagoon; Behind-the-scenes educational session with Dolphin Cay's Behaviorists & Veterinarians; Behind-the-scenes marine habitat tour and fish necropsy session with the Sea Keeper team; Food preparation session in the resort's dedicated "Fish Kitchen" (where over 1,000 pounds of restaurant-quality seafood is served to the resort's aquatic animals each day) and dedicated feeding sessions featuring the resort's sharks and rays
Package Inclusions: Five-day itinerary starting from early morning to late afternoon (including lunch daily), dedicated Atlantis Marine Life Team Leader per eight campers, marine-themed amenity package, camp name badge, personal mask and snorkel, and Atlantis water bottle
Session Dates: June 25 – 29, July 9 -13, July 30 – August 3, August 13 – 17
Cost (Five Day Program): $1,200 per participant* (vat inclusive); note: camp MUST be booked for all five days
Snorkel the Ruins at Twilight
On June 15, Atlantis (home of the world's largest open-air marine habitat) will launch its first- ever twilight version of the resort's "Snorkel the Ruins program," a 45-minute snorkeling adventure amid the "sunken ruins and artifacts" of the lost city of Atlantis. While the acclaimed daytime version of the program will still be available for guests, the new twilight program (which will take place at 7:45 PM, daily) will give guests a rare opportunity to spend their evening with Atlantis Aquarists and take an underwater guided tour of the Ruins Lagoon. The Ruins Lagoon houses over 2.7 million gallons of ocean water and marine animals ranging from sleek sharks and spotted rays to deep-reef and pelagic fish. At night, the underwater world is a different place. Much like a city, the high energy and intense activity transforms into a slow, quiet and serene atmosphere.
Cost of "Snorkel the Ruins at Twilight" starts at $136.00 per person*; maximum capacity per timeslot is eight participants.
Playtime with Sea Lions at Dolphin Cay
One of the few places in the world where guests can learn about Sea Lions first hand, the "Playtime with Sea Lions" experience at Atlantis is an opportunity to discover behavioral and communicative patterns of these one-of-a-kind marine mammals. Guests will play, swim and engage with the Sea Lions in their habitats during an in-water component, with Dolphin Cay's marine mammal behaviorists. Following the interaction, guests are invited for a special behind- the-scenes tour and overview of the daily care of the Sea Lions. Dolphin Cay is the resort's 14- acre marine mammal habitat, state-of-the-art education center and animal-rescue rehabilitation center that is home to the dolphins and sea lions rescued in the aftermath of Hurricane Katrina.
Cost of "Playtime with Sea Lions" program starts at $210.00 per person*.
"Every day is truly World Oceans Day at Atlantis. It is such a rewarding feeling knowing that we are able to continue to make a difference within our country and local community by offering programming that supports both our marine education mission and the protection of our natural resources," says Michelle Liu, Senior Vice President of Marine & Waterpark Operations at Atlantis, Paradise Island. "Whether we participate in coral reef out planting trips to help re-build damaged reefs, take guests out to the ocean for sea turtle releases or rehabilitate marine mammals on-property, conservation and sustainability is always top of mind."
For more information about marine programs at Atlantis, Paradise Island resort and opportunities to get involved, please visit: atlantisbahamas.com. For more information on the Atlantis Blue Project Foundation, please visit: BlueProjectAtlantis.org.
* A portion of the cost of this program is dedicated to the Atlantis Blue Project Foundation (ABPF)