The government is inviting feedback from the private sector as it continues in its efforts to draw up and implement a National Development Plan (NDP).
The private sector will be invited to meet with government representatives from June to October this year to workshop issues relevant to their industries and give feedback on how the NDP should proceed.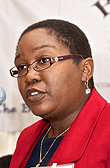 Director of financial services Dr Nicola Virgill-Rolle (pictured) made the comments at the Bahamas Chamber of Commerce and Employers Confederation's National Conclave held this week in Nassau
"We want to make sure this plan comes from the people," said Virgill-Rolle, who is spearheading efforts to develop the NDP. "The private sector has to drive this. This is where the wealth of the county is, there the growth comes from.
"If it is not credible to you it does not work. We have to have you front and centre," she told the audience.
First launched in 2012, and funded in part by the Inter-American Development Bank, the NDP is a 25-year road map for sustainable development of the Bahamian economy. It is being overseen by the Office of the Prime Minister and is currently in the "situational analysis" phase.
The BCCEC National Conclave was held at the Melia Resort on Cable Beach, April 15-16. Keynote speaker at the event was Prime Minister Perry Christie and attendees also heard from Baha Mar chief executive officer Sarkis Izmirlian and Minister for Financial Services Hope Strachan.
cmorris@dupuch.com