The Bahamas is one step closer to becoming a full member of the World Trade Organization (WTO), according to Minister of Financial Services Hope Strachan who says her Ministry is actively working to further the country's application in line with an "ambitious" trade strategy.
The government recently completed its Factual Summary–a document required by the WTO to advance the accession process. The summary gives The Bahamas a basis for negotiations as discussions advance.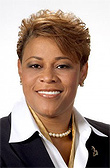 Speaking at the Bahamas Chamber of Commerce and Employers Confederation (BCCEC)'s National Conclave this week, Minister Strachan (pictured) said: "There is still much work to be done, but our recent completion of the Factual Summary is a leap forward in this process."
She also spoke of the government's trade policy in general, highlighting the need to increase The Bahamas' export capacity and create business opportunities through international agreements.
The Ministry of Financial Services has received a $1.5 million loan from the Inter-American Development Bank to further trade liberalization and the Minister said this is being used to strengthen trade institutions and equip local businesses to benefit from international markets through the establishment of a Bahamas Bureau of Standards.
"The Ministry of Financial Services has an ambitious mandate… to position The Bahamas as a pre-eminent trade hub," she said. "Our island nation can no longer have the privilege of being an island onto ourselves."
The BCCEC Conclave took place April 15-16 at the Melia Resort in Nassau. Other speakers on the agenda for the two-day conference included Prime Minister Perry Christie, Minister of State for Investments Khaalis Rolle and Baha Mar chief executive officer Sarkis Izmirlian.
cmorris@dupuch.com