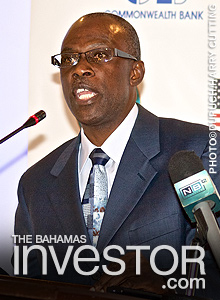 Michael Cunningham, Chairman, Bahamas Entrepreneurial Venture Fund speaking at the National Conclave of Chambers of Commerce in The Bahamas held last week at SuperClubs Breezes in Nassau. (Photo Harry Cutting/©Dupuch)
Bahamian entrepreneurs need to be more proactive in seeing their businesses come to fruition, according to the Chairman of The Bahamas Entrepreneurial Venture Fund (BEVF), who has also called for greater creativity and innovation in the sector.
Speaking at the National Conclave of Chambers of Commerce in The Bahamas last week, BEVF Chairman Michael Cunningham said: "There are creative minds in our society, but the courage to take the financial risk is lacking" and particularly urged potential businesses in the Family Islands to take advantage of access to funding and support networks.
"We want to see more entrepreneurs giving birth to ventures in the Family Islands," he said. "It is our hope that entrepreneurs will use major projects in the Family Islands to develop small businesses."

The BEVF makes loan or equity funding available to start-up businesses. Since its inception in 2005, the government body has released around $5.7 million with 80 per cent going to Nassau, 12 per cent to Grand Bahama and the rest dispersed among the Family Islands.
Applicants must submit a business proposal, which is reviewed by the board. Approval for a loan can be granted within a month.
Cunningham said the reasons most ventures fail are lack of passion, inadequate planning and weak marketing. He said small businesses were the engine of The Bahamas and the BEVF was keen to see more success stories.
The fund can grant up to $200,000 in equity or $100,000 and Cunningham said it was a key resource for businesses, saying: "This is a great funding avenue, with minimum red tape. There is no other government agency that renders this kind of assistance in The Bahamas. This fund is a sleeping giant."
The National Conclave of Chambers of Commerce in The Bahamas was organized by the Bahamas Chamber of Commerce and Employers Confederation and ran April 2-4 at Breezes SuperClubs in Nassau. Additional speakers included Prime Minister Perry Christie and Minister of Financial Services Ryan Pinder.
cmorris@dupuch.com