A Bahamian scientist and her Youth Coral Conservation Team are being featured in a major exhibition at the Natural History Museum in London.
The exhibition, Coral Reefs: Secret Cities of the Sea, includes 250 specimens from the Natural History Museum's coral, fish and marine invertebrate collection.
Included in the exhibit is a six-minute documentary about the coral conservation work that Nikita Shiel-Rolle (pictured), chief executive officer and president of Young Marine Explorers has been conducting throughout The Bahamas.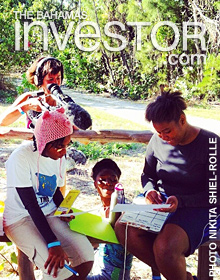 Pictured: Nassau youth coral conservation team members preparing data collection sheets while being filmed by a National History Museum of London documentary producer. (Photo courtesy Nikita Shiel-Rolle)
The documentary was filmed in New Providence and Cat Island with Young Marine Explorers members from C V Bethel Senior High in Nassau and Arthur's Town High School in Cat Island.
A London-based film crew spent 10 days in The Bahamas in December 2014 working with Young Marine Explorers and capturing their story.
In the documentary, Shiel-Rolle describes the threats to coral reefs in The Bahamas, which include, unregulated development, poor waste management and overfishing.
It highlights Shiel-Rolle's commitment to being part of the solution to one-day stop coral reef degradation in The Bahamas. Through her Zoological Society of London EDGE Fellowship Shiel-Rolle developed the Coral Conservation Team model and monitoring protocol.
The Young Marine Explores Coral Conservation Team trains young people in SCUBA diving, coral identification, and leadership. Team members are developing the skills that will enable them to collect data on the health of coral reefs and identify local threats that could be harming the reefs.
Shiel-Rolle says: "It is easy for someone who has never seen a coral reef to think that they are just underwater rocks and not very important. Corals are animals, and coral reefs are important ecosystems that can be compared to underwater cities, where each creature plays a vital role. As Bahamians we need to make sure we have healthy coral reefs, because coral reefs contribute significantly to our economy and our health and wellbeing. "
Coral Reefs: Secret Cities of the Sea will be at the Natural History Museum, South Kensington, London until September 13, 2015.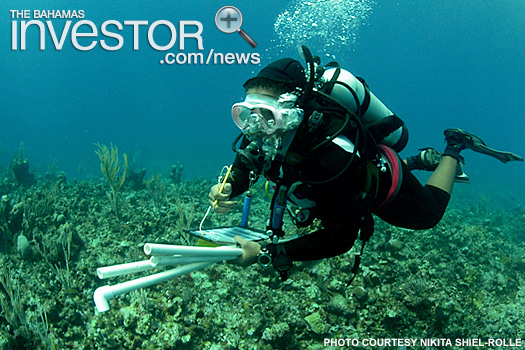 Pictured: Nikita Shiel-Rolle monitoring coral reef health in Cat Island Bahamas. (Photo courtesy Nikita Shiel-Rolle)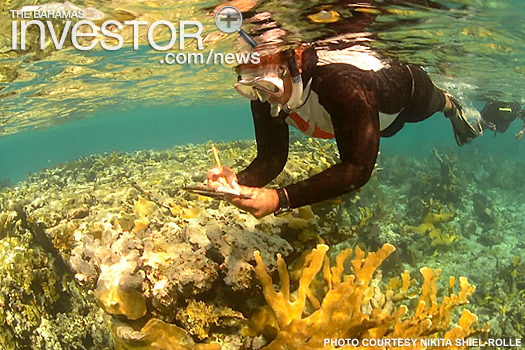 Pictured: Nikita Shiel-Rolle and Coral Conservation Team members studying a patch reef. (Photo courtesy Nikita Shiel-Rolle)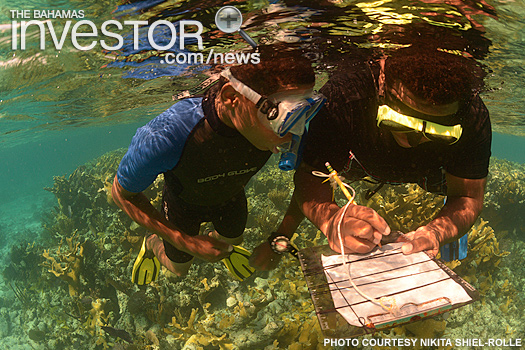 Pictured: Coral Conservation Team Members documenting their findings. (Photo courtesy Nikita Shiel-Rolle)