The Caribbean Export Development Agency (Caribbean Export) is helping creative entrepreneurs across the region access new markets and increase their exposure internationally.
Caribbean Export, which recently hosted a creative and cultural industries workshop in Trinidad and Tobago attended by 70 creative professionals, wants to focus on the arts sector in 2019, helping small business owners and entrepreneurs in niche industries such as fashion, music, film and animation.
Pictured: Caribbean Export services specialist Allyson Francis gives remarks at the recent Trinidad and Tobago workshop. (Photo courtesy Caribbean Export)
The trade promotion agency aims to leverage European export opportunities to give Caribbean creatives a foothold in that profitable market. It hosts regular training sessions, presentations and workshops around the region to discuss issues such as intellectual property rights, marketing branding, quality and standards, and pricing.
"Helping cultural practitioners gain a better understanding of the opportunities and facilitate an increasing number of services trading with Europe is extremely important," said Caribbean Export Services Specialist Allyson Francis.
The Latin American and Caribbean creative and cultural economy was worth $175bn in 2011, according to the Inter-American Development Bank, and had exports totalling $18.8bn. In 2015, the sector employed more than 1.9m people across the region.
The IDB has previously urged The Bahamas to take advantage of this potentially profitable sector and increase its cultural exports which amounted to just over $1.64m in 2010.
Last month Prime Minister Hubert Minnis pledged to create a multi-million dollar fund to encourage growth in the arts. The fund will allocate grants to support Bahamian painters, sculptors, filmmakers, writers, musicians and performing artists.
"Artists will be able to apply for small grants to support initiatives that will add to the cultural expression of the country," said Minnis. "The benefits of a strong arts sector and creative economy are well known. The arts stimulate business activity and attract tourism."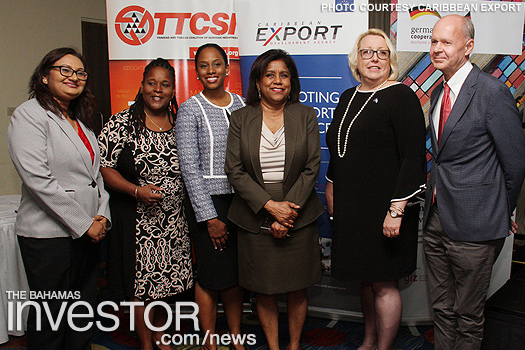 Pictured: (from left) Vashti Guyadeen, General Manager of Trinidad and Tobago Coalition of Services Industries, Allyson Francis, services specialist Caribbean Export Development Agency, Sanya Alleyne, technical trade advisor, Deutsche Gesellschaft für Internationale Zusammenarbeit (GIZ) Gmbh, Honourable Paula Gopee- Scoon, Minister of Trade and Industry, Trinidad and Tobago, Ms. Lara Quentrall- Thomas, president, Trinidad and Tobago Coalition of Service Industries (TTCSI) and Ulrich Thiessen, programme officer, European Union Delegation, Trinidad & Tobago. (Photo courtesy Caribbean Export)