Source:
Date:
Updated:

CBC News
Friday, June 21, 2013
Friday, June 21, 2013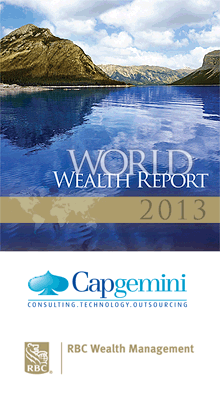 The investable wealth of the world's richest people reached a record high of $46.2 trillion US in 2012, a report by RBC Wealth Management and the consulting firm Capgemini has found.
The annual World Wealth Report, released Tuesday, found that the wealth of so-called high net worth individuals, or HNWIs, grew by 10 per cent last year, and the number of individuals included in the high net worth category grew by a comparable amount, rising 9.2 per cent to 12 million people worldwide.
HNWIs are defined as people who have investable assets of $1 million or more, excluding "primary residence, collectibles, consumables, and consumer durables (which include things like furniture and appliances)." Ultra high net worth individuals have assets of $30 million or more.
North America had the greatest number of high net worth individuals and saw the number increase by 11.5 per cent in 2012 to 3.73 million people, who were worth a total of $12.7 trillion. Americans, at 3.436 million, made up the bulk of that group while Canada had 298,000 HNWIs, an increase of 6.5 per cent over 2011.

Canada ranked seventh among 12 countries with the greatest number of high net worth individuals, below France, Britain and China but ahead of Switzerland, Italy and Australia.
Canada's wealthiest individuals were worth $897 billion.
"Growth was primarily driven by strong performance in equity markets and real estate, and marginal GDP growth," the report said of the increase in net worth of Canada's wealthiest individuals in 2012.
Canada's real GDP increased by 2.0 per cent and housing prices by 2.2 per cent in 2012, the report said.
China's millionaires growing
Japan had the second-highest number of HNWIs after the U.S., with 1.902 million people there worth $1 million or more, followed by Germany, with one million HNWIs. Together, the three countries have accounted for more than half of all high net worth individuals for at least the past six years, the report's authors said.
China and Australia saw the biggest jumps in the ranks of the wealthy, with their millionaires-plus club growing by 14 and 15 per cent, respectively.
Africa, meanwhile, saw a 9.9 per cent jump in the number of people who had at least $1 million in investable assets but still made up the smallest portion of the pie, with a total of $1.26 trillion in assets.
About one million people worldwide joined the ranks of the privileged in 2012.
Bulk of wealth held in cash, deposits
The wealthy varied in how they spent their money. A little over 28 per cent of the total wealth held by HNWIs was kept in cash and deposits, followed by equities (26 per cent) and real estate (20 per cent).
Latin Americans preferred to invest in real estate while North Americans were more heavily invested in equities. Europeans preferred cash and deposits and real estate in equal measure. Wealthy individuals in the Middle East and Africa invested more heavily than those in any other region in alternative instruments such as hedge funds, derivatives, foreign currency and private equity.
Overall, 33 per cent of high net worth individuals were focused on preserving their wealth while 26 per cent turned their attention to growing it.
The report's authors have nothing but good news for the world's wealthy, forecasting global wealth to grow by 6.5 per cent a year and to reach $55.8 trillion by 2015.
Source: CBC News. Download: 2013 the World Wealth Report.