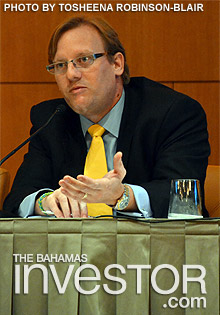 Pictured: Minister of Financial Services Ryan Pinder speaks at the Bahamas Financial Services Board Landfall event held at the Conrad Hilton in Miami November 7.
Miami, Florida–Billions of dollars held by American financial institutions for Latin American clients could potentially make its way to The Bahamas, said Minister of Financial Services Ryan Pinder during a Bahamas Financial Services Board (BFSB) Landfall event held at the Conrad Hilton in Miami November 7.
"We are forecasting significant exit mobility of capital," said Pinder.
"We believe that as a sovereign country with a well-regulated and respected banking system, one that is close to Miami, that we will be the recipient of significant amounts of capital that is found in the institutions here."
Pinder, a tax attorney, says there's one estimate floating around that some $200 billion is under management by Miami financial institutions for Latin American clients.

"It's a significant amount of capital that could potentially be mobile," he told the intimate gathering of money managers and intermediaries.
"We would look to work with you, the industry here, on how we can cooperatively have a proper plan to deal with this type of business."
Pinder said The Bahamas has had "dialogue" with some US banking institutions interested in licensing in The Bahamas "to preserve their asset base."
The BFSB-backed Bahamas Landfall events present a holistic and comprehensive view of The Bahamas to intermediaries and investors.
Presenters tout the merits of the jurisdiction: "an established, progressive and welcoming center for international business and financial services."
Similar Landfalls have been held in such destinations as Zurich and London.
"We chose Miami this year for two major reasons, to strengthen historic ties with Miami advisors and because of the increasing importance of Miami as a hub for Latin America," said Aliya Allen, the chief executive officer and executive director of BFSB–a quasi-government agency whose job it is to promote the nation's second largest industry to the world.
"We thought that there were synergies that could be exploited between what you offer and what we offer in terms of wealth management services," Allen told the select gathering during the brief presentation, which took the form of a panel discussion.
Pinder noted that The Bahamas already has products developed specifically for the LatAm market.
"We demonstrated that with our SMART fund and our template 007 for the Brazilian market," said Pinder. "That model is a super qualified fund in Brazil, which fits nicely with the onshore/offshore wealth management strategy in Brazil."
Smart Fund 007 is the newest model designed to accommodate investors through a flexible, but regulated fund structure for both institutional and individual investors.
According to Timothy Colclough, co-deputy chair of BFSB, and vice president and head of Trust & Fiduciary Services at Butterfield Bank (Bahamas) Ltd, when it comes to wealth management, "you want to make sure that the jurisdiction has regulatory robustness and that any structure put in place will stand the test of time."
tblair@dupuch.com