Minister of the Environment and Housing Kenred Dorsett has announced the release of Eco Bahamas –a quarterly magazine that highlights environmental issues in the country and news from within the Ministry of the Environment and Housing.
"In an effort to ensure that the general public is kept abreast of the work being done to safeguard the environment by my ministry and its agencies and partners, we have published an environmental magazine and newsletter," noted Dorsett in a press release announcing the publication.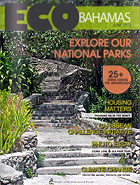 "In this issue we introduce the public to some of our partners such as The Nature Conservancy, Bahamas National Pride Association and other organizations from around the country," the Minister continued.
"We have also included news concerning the housing portion of my portfolio, with the release of the new housing models that I had commissioned for the government's housing programme. Also in this issue we launch the print version of our energy conservation campaign."