PRINCETON, NJ–(BUSINESS WIRE)–Studio Hillier, the Princeton architectural firm of J. Robert and Barbara Hillier, has been selected by StarPort Resorts, Inc. to design Port St. George, The Bahamas' newest eco-engineered luxury resort on Long Island. The Hilliers have been honored with over 350 design awards.

The scenic and tranquil Out Island will be the setting for an 882-acre luxury resort that spans two-and-a-quarter miles from Exuma Sound to the Atlantic Ocean. The project will feature a five-star hotel on a spectacular peninsula on Exuma Sound. The centerpiece, however, will be a 100-acre protected harbour where 640 pleasure crafts can be moored, making it the largest in The Bahamas. A vibrant harbour village will be home to retail shops, lodging, restaurants, condominiums and a range of services for the island community.
"Our goal with Port St. George is to offer visitors and homeowners alike an environmentally- and socially-conscious escape from hectic, modern-day life," said Duane Gerenser, president of StarPort Resorts Inc. "Long Island remains virtually untouched, and Port St. George will serve as a non-invasive oasis from which to explore its natural wonders. In collaboration with Studio Hillier, we're creating an environment that not only serves those who choose to visit Long Island, but also those who already call it home. The Studio Hillier plan now very successfully integrates the local community into the project by creating opportunities for sports, education and entrepreneurs."
The topography gently rises from the harbour to a bluff overlooking the Atlantic. A beach club and condominium units will be built on terraced terrain with stunning ocean and beach views. A golf course, tennis courts and sporting fields will be built on the land between the harbour and the Atlantic ridge.
Several distinct areas allow for a diverse use of architectural styles, with the harbour area featuring traditional Bahamian design influences with modern twists and the Atlantic side boasting a cutting-edge modern look. A total of 515 residences are planned, comprising 500 condominiums and 15 spacious, luxury villas.
Aside from the spectacular site, the most distinctive aspect of Port St. George will be its dedication to eco-engineering and sustainability. Studio Hillier is incorporating the best available technology into both the infrastructure and the residential and commercial buildings to meet that commitment. Included will be extensive use of photovoltaics and high-tech battery storage systems, rainwater retention systems, composting of refuse and geothermal air conditioning. The development will have a minimal carbon footprint, enabling homeowners and guests to experience the beauty and serenity of Long Island with the knowledge that the resort base has been carefully designed to respect the environment with non-invasive support systems.
Projects of this scope are not new to Bob and Barbara Hillier. They designed Harbour Island in Tampa, Florida; the five-million-square-foot Sprint World Headquarters in Kansas; The Irving Convention Center in Texas and New Jersey's first Planned Unit Development, Twin Rivers in East Windsor.
Overseas, the Hilliers have designed the Global World Headquarters for GlaxoSmithKline in London; Star City, a billion-dollar casino and theatre complex in Sydney, Australia; as well as buildings in 17 other countries. In the Atlantic Islands, the Hilliers have designed projects in Antigua and Bermuda, including the Conference Center at the Princess Hotel.
"Our plan is to make Port St. George the most comfortable, desirable, aesthetically appealing and sustainable destination in The Bahamas. That is a tall order, but possible with the rapid advances in technology and a team dedicated to creating a seamless experience for guests. That is what a vacation should be," said Bob Hillier.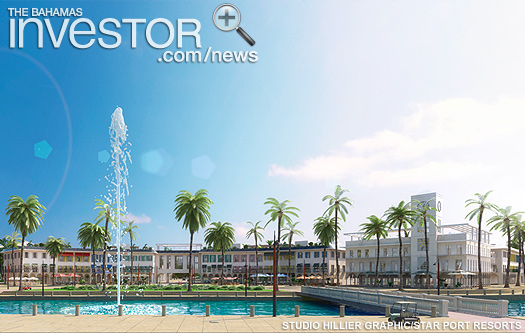 (Studio Hillier Graphic/StarPort Resorts)