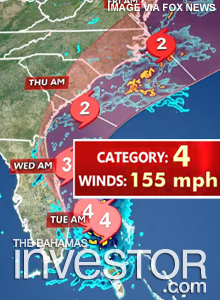 The category 5 storm hit Elbow Cay, Grand Bahama island and the Abaco islands over the weekend.
There have been wide reports of damage as Hurricane Dorian moves slowly across the north west region of The Bahamas island chain.
So far, only one death has been reported but the extent of the damage and loss of life has yet to be assessed.
Dorian made its first landfall on Elbow Cay, at 12:45 pm Sunday, with maximum sustained winds of 185 mph and gusts over 220 mph. A second landfall occurred at Marsh Harbour, on the island of Great Abaco, with the same intensity.
The third landfall occurred along the eastern shores of Grand Bahama late Sunday evening. Dorian continued to produce category 5 strength, with winds topping 180 mph.

The slow moving storm is now expected to travel along Florida's Atlantic coast over the next few days.