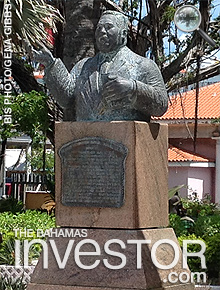 Rawson Square. Click on the picture to see enlargement. (BIS Photos/Gena Gibbs)
The Secretariat of the 40th Anniversary of Independence has planned a series of civic events for today to mark National Pride Day in Rawson Square from 10:00 am to 10:00 pm.
"The whole event is to foster pride in Bahamians.
Proud of our past, our culture, our heroes, our institutions, and each other. We have every reason to celebrate 40 years of independence," says Joann Johnson, chairman of the National Pride Day Committee.
Johnson adds that Bahamians can participate in singing the National Anthem, reciting the National Pledge, and engaging in a National Prayer with fellow citizens.

She says there will also be a recording of the Independence Resolution spoken by the late Prime Minister Sir Lynden Pindling, followed by a performance by the National Children's Choir.
There will be keynote remarks from Governor General Sir Arthur Foulkes and Charles Carter.
There will also be a tribute to the Fathers of Independence followed by a ceremonial flag raising and wreath laying, as well as Junkanoo rush out and other performances in the evening.