Minister of Transport and Aviation Glenys Hanna-Martin assured Bahamians at a press conference December 3 that the oil spill off Grand Bahama earlier that same day is not likely to threaten the Bahamian environment.
Hanna-Martin said investigations into the leak from a Mediterranean Shipping Company (MSC) vessel, The Eugenia, were being undertaken by marine environment inspectors, engineers, and port officials. The container vessel left Freeport harbour around 4.00 am December 3, en-route to the Everglades, with some 3,000 barrels of oil on board.

"While departing the harbour, it was noticed that there was a leak, described as oil coming out the vessel in a bubble formation," said Minister Hanna-Martin. "When the crew and captain realized that there was a leak, they continued out to sea into an area which is called the steering current."
She said they immediately erected a boom around the vessel, on the starward side, which had the effect of containing the leak. "They began repairs to the tank, and transferred the oil to another holding tank, which staved off an increased flow."
Also at the press conference were members of the Oil Spill Committee including the Ministry of the Environment, Transport and Aviation, the Port Controller, the BEST Commission, the Ministry of Tourism, Customs and Immigration, Office of the Attorney General, Fisheries and the National Emergency Management Agency (NEMA).
She said the ship is not being penalized at this time, unless the Attorney General's Department can show that assessments have been ascertained to attribute environmental damage resulted from the oil spill. She said so far, no health and safety regulations have been violated and there is no need for the public to be alarmed.
The Minister said members of the committee did an overfly of the area with the systems of the Defence Force and viewed firsthand the extent and nature of the leak.
"Based on what we have seen and based on the expert advice that is formed on this committee, it is our view that the natural ocean currents will have the effect of dispersing the oil. It was not thought prudent to use dispersal chemicals because experts were of the view that it would cause the oil to sink to the ocean floor and potentially cause marine damage," she said.
"No coastal area is at risk. No beach area is at risk," she added.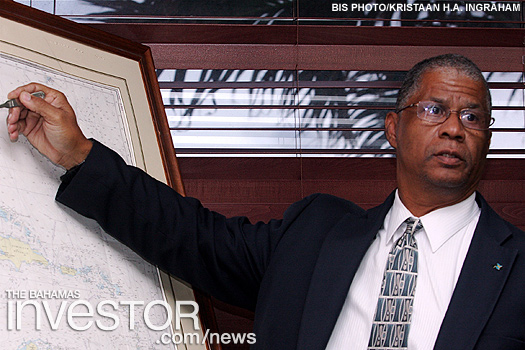 Commander Patrick McNeil, Port Department. (BIS Photo/Kristaan H.A. Ingraham)