Agricultural and marine industry leaders from across the Caribbean assembled in Nassau recently to talk about fisheries policies and promote a sustainable and thriving fishing industry in the region.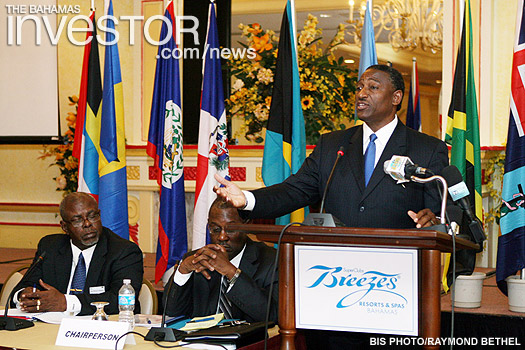 Agriculture, Marine Resources and Local Government Minister Alfred Gray speaks at the Sixth Meeting of the Ministerial Council of CRFM at SuperClubs Breezes. From left are outgoing CRFM chairman Hilson Baptiste of Antigua and Barbuda, and Permanent Secretary Cresswell Sturrup. (BIS Photo/Raymond Bethel)
The sixth meeting of the Caribbean Regional Fisheries Mechanism (CRFM) Ministerial Council took place at Breezes hotel in Nassau in June, led by the newly appointed chairman Minister of Agriculture, Marine Resources and Local Government Alfred Grey.

Minister Grey welcomed representatives from across the region, saying: "If our countries are to continue to benefit from the resources of the sea, each country must do all in its power–as a country and collectively–to protect our resources for the many livelihoods that depend on them."
"The Bahamian people have always been closely connected with the sea. The Bahamas has a significant commercial fishery that provides high income employment."
The Bahamas' fisheries account for around two per cent of the country's gross domestic product and employ more than 12,000 people.
According to figures from the Food and Agriculture Organization of the United Nations, 70 per cent of the world's fisheries resources are in decline or overfished.
"The Bahamas still enjoys a relatively healthy and rich fisheries resource," said Minister Grey, who warned, however, that there were still significant threats to the industry including illegal, unregulated fishing, limited access to export markets, environmental changes and the proliferation of invasive species.
The chairmanship of the CRFM is awarded on a rotating basis and each chairman serves a one-year term. In March, Bahamas Director of the Department of Marine Resources Michael Braynen was appointed to lead the Caribbean Fisheries Forum, which advises the CRFM.
Outgoing CRFM chairman Hilson Baptiste advised the organization's new leaders that it would need firm guidance in setting policy, saying: "CRFM is at a crossroads right now. It needs strong and decisive leadership if it is going to be relevant to the Caribbean. A lot of work has to be done."
"The importance of CRFM to the Caribbean cannot be overstated. No one island can stand on its own and should not stand on its own, because we are so connected in the Caribbean. We are the policymakers and [we must be] prepared to set the course and chart the course for CRFM."
cmorris@dupuch.com