During a groundbreaking ceremony held on the grounds of the British Colonial Hotel August 6, Prime Minister Perry Christie said that the new Pointe resort and retail development in Nassau will boost the local economy.
He expressed gratitude to the developer and its principals and said that multi-million dollar project would be a boost to the downtown area.

"I would like to thank the developer, China State Construction and Engineering Corp for the investment of $250 million in this harbour-front project, the 250 construction jobs being undertaken by Bahamians and the future employment prospects for 500 Bahamians in the operation and management of the hotel and residential units. This does not include the number of Bahamians who I expect will be employed by retail owners when the facility is fully subscribed and stores are operational," said Prime Minister Christie.
He said that as one of the largest construction companies world-wide, China State Construction and Engineering has, over the past several years, 'demonstrated' its capabilities in infrastructure and resort construction contracts and, more recently its commitment to The Bahamas in the acquisition of the British Colonial Hotel and its adjacent property.
Chairman of China Construction America Ning Yuan said that the new hotel represented the company's first hotel and development acquisition in the Caribbean.
"The Pointe represents another substantial milestone for us in that, different from our other project in The Bahamas, China Construction America will be the sole investor, developer and contractor for The Pointe Project," he said.
China Construction America is one of the major contractors involved in the Baha Mar resort project on Cable Beach.
CCA Bahamas senior VP Daniel Liu said that the world-class residential development is designed to delight residents and visitors. Liu highlighted some of the resort's amenities, which include a 200-room entertainment hotel, shopping, fine dining and a 1,000-car garage.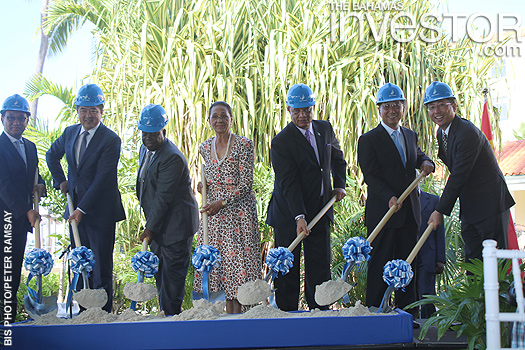 Pictured: China Construction America (CCA) Bahamas senior VP Daniel Liu; CCA President and chairman Ning Yuan; Deputy Prime Minister Philip Davis; Governor General Dame Marguerite Pindling; Prime Minister Perry Christie; Chinese Ambassador to The Bahamas Juan Guisen; and CCA Bahamas VP Tiger Wu (BIS Photo/Peter Ramsay)