Source:
Date:
Updated:

PRNewswire
Wednesday, September 12, 2012
Wednesday, September 12, 2012

NASSAU, Bahamas, Sept. 11, 2012 /PRNewswire/ – NISI Yachts reports a new model to be unveiled today at the prestigious opening day of the 35th annual Festival de la Plaisance in Cannes, France.
Codename "1700", she is the third model to be introduced in NISI's incredible yacht collection in a little over a year. Resized, reimagined and redefined, the new NISI 1700 is intimately captivating alongside her larger siblings.

Expecting no less by the award winning team that pioneered Casual Opulence to the active jet set, NISI 1700 blends legendary styling with unrivaled engineering that infuses the elegance of a downeast boat, the spaciousness of a true motoryacht, and the racy feel of a sport cruiser into one incredible design.
NISI 1700 arrives in the footsteps of her big sister, NISI 2400, recognized as 2011's "Best New Yacht" and an acclaimed Cannes World Yachts Trophies winner at last year's event. The inaugural NISI 2400 model was also honored with the "Best Design" award by the International Superyacht Society later that season.
Industry professionals speculate NISI 1700 will be another groundbreaking debut when she splashes next spring.
"Our new NISI continues our tradition of delivering a unique, meaningful sense of occasion to owners," said Christos Livadas, CEO and Founder of NISI Yachts. "She will transport a Hamptons-esque lifestyle seamlessly from land to water."
Discovering NISI 1700
From the moment one steps aboard, NISI 1700 feels like she is made for you. Every finish impeccable, every feature purposeful, every trait designed with a sense of timelessness to excite and inspire the most discerning yacht owners. Whether sailing off the coast of Maine or exploring vineyards along the French Riviera, NISI wraps romance, elegance and glamour in a new standard for design and build.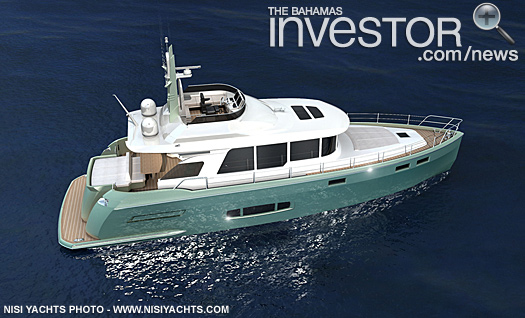 Exterior profile of the new NISI 1700 yacht. (photo courtesy NISI Yachts)
Express and Flybridge layout arrangements are available with a range of powering options, including jet-drives and pods delivering top speeds of 40 knots.
Custom interiors are being crafted in partnership with superyacht interior builders SMI Group of New Zealand. Naval architecture is provided by Setzer Design Group, USA.
NISI state-of-the-art shipyard in China (top-left); Interior rendering images of the Master Stateroom and Master ensuite head; The debut model NISI 2400 (photos courtesy NISI Yachts)
Construction is underway on Hull #1 driven by twin Caterpillar C-18, delivering a total 2,300 horsepower mated to the UltraJets propulsion package.
Lithium power generation systems, based on established technology now used in residential industries, will supply on-board services. Generator capacity and weight have been reduced by 40%, with usage and diesel consumption reduced by over 65%. The system is scalable with the potential to provide diesel generator independence while cruising and at anchor for up to five days, or overnight with air-conditioning, if required.
Simple systems automation found on NISI's larger yachts has been incorporated into the 1700 model, providing owners with auto-power management, remote lighting, entertainment, and vessel systems controls, which may be self-managed by the yacht or manually controlled by a smart phone.
About NISI Yachts
NISI Yachts is a Bahamian headquartered company with shipyard facilities in Southern China.
The pinnacle of escape, NISI stands solitary in her class. NISI Yachts infuses casual opulence with legendary styling and advanced naval architecture by the Setzer Design Group.
The NISI collection ranges from 17 to 26 meters in length, with custom builds available from 30 to 45 meters. Additional information on NISI is available at www.nisiyachts.com. NISI is also available on facebook.
Ownership inquiries:
Tel: +1 (305) 777-2138
Email: ownership@nisiyachts.com
Media inquiries:
Tel: +1 (305) 608-8812
Email: media@nisiyachts.com
SOURCE NISI Yachts