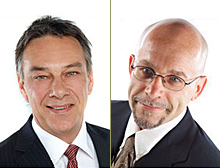 KRyS Global, a corporate recovery, insolvency, forensic accounting and business advisory services firm with an office in The Bahamas, has announced the launching of a fifth office, in Guernsey, to commence business October 2012.
"We identified there was a need for the types of services and expertise we provide, primarily in the areas of fraud investigation and asset recovery," says founder and chief executive officer of KRyS Global Kenneth Krys (pictured-right). "With our dedicated experience and proven success in the Caribbean, together with our strong networks in Hong Kong and elsewhere, we offer a unique and independent perspective to investigating instances of fraud and recovering assets for victims that Guernsey does not currently possess."

KRyS Global's expertise is in the offshore financial services industry and the firm has played a pivotal role in a number of large, high-profile cases in the Caribbean in the last five years.
The Guernsey office will be led by Timothy Le Cornu (pictured-left), who has been a director in KRyS Global's Cayman Islands' office since 2008 and has more than 17 years experience in investigating fraud and collecting assets, particularly at the cross-border and international level.
"I am excited to have the opportunity to lead KRyS Global in Guernsey," says Le Cornu. "Based on the service providers and government officials I have spoken with, it is evident the strategic alliance with Guernsey complements the services and expertise we currently provide elsewhere. We have a very strong team, and I am eager to bring our capabilities and expertise to Guernsey, the UK and Europe."
KRyS Global now has offices in five jurisdictions: Cayman Islands, British Virgin Islands, The Bahamas, Bermuda, and Guernsey.