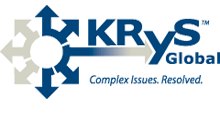 KRyS Global, a firm dedicated to corporate recovery, asset tracing, insolvency, forensic accounting and business advisory services, today announced the appointment of Timothy Ward as its new chief executive officer.
Tim's appointment as CEO will reinforce the existing management structure and will enable Kenneth Krys, former CEO, who will become executive chairman of the firm, to direct his attention to the strategic, business development and risk management elements of the firm.

KRyS Global has also appointed Sarah Kelly, as global head of human resources.
"We are thrilled with having Tim and Sarah join our team. As we continue to grow, we need to ensure we have the skills and resources not only to keep up with our competitors, but to exceed them," says Krys. "The extensive experience that Tim and Sarah will bring to the firm will add tremendous value to the existing infrastructure, as we develop into the leading offshore firm in corporate recovery and insolvency services."