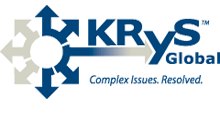 KRyS Global, fraud investigation, dispute resolution and corporate recovery firm, is expanding its reach into the US market with the launch of a New York office May 12, 2014.
KRyS Global USA, Inc will provide a wide range of restructuring advisory and capital markets services, primarily related to complex distressed situations.
Specifically, KRyS Global USA will focus on three advisory business lines: financial restructuring and distressed situation advisory; capital markets advisory and mergers; and acquisitions advisory services.

Heading up the KRyS Global NY office, located on 57th Street, Manhattan, will be managing director Grant Lyon, who currently leads Odyssey Capital Group, LLC, a financial advisory firm with offices in New York and Phoenix.
"We believe we are uniquely positioned to assist clients in distressed situations," says Lyon.
"We offer a bespoke blend of advanced liability management strategies and extensive operational expertise, which will complement the existing services of KRyS Global."
Kenneth Krys, founder and executive chairman of KRyS Global says that "by having a presence in New York, we will now be in a better position to facilitate our clients offshore and onshore."
"To the extent there are bankruptcies needed onshore, particularly in conjunction with offshore liquidations, we can now assist in providing a seamless service across all jurisdictions."
John Skelton from the Cayman Islands office, will also be moving to New York.
"This is a very exciting time for KRyS Global," adds chief executive officer Tim Ward, "as we continue to strengthen the connection and understanding between the onshore and offshore worlds and provide innovative solutions to complex situations."
This latest office will further complement the KRyS Global offshore presence in the Cayman Islands, British Virgin Islands, Bermuda, The Bahamas and Guernsey.