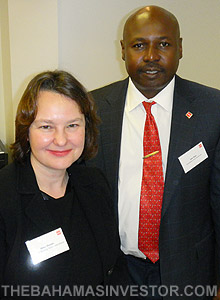 Bahamian forensic accountant John Bain has been invited to participate in a defining webinar hosted by the Association of Chartered Certified Accountants (ACCA).
The webinar, which is taking place tomorrow, is being conducted to develop the organisation's integrated report as part of a pilot programme initiated by the International Integrated Reporting Committee (IIRC).
Bain, the first Bahamian elected to the ACCA's International Assembly, has been selected as an integral member of a small group of ACCA International Assembly representatives invited to participate in the webinar.
The webinar is organized to outline the issues of greatest importance to the ACCA's 140,000 members in 170 countries.
Bain is one of the first of 40 individuals worldwide to become a Certified Specialist in Asset Recovery (CSAR) and is the winner of the 2007 ACCA Achievement Award for the Americas.

The forensic accountant has served as chair of the e-professional session of the ACCA's International Assembly, the organisation's annual meeting in 2011. In his capacity as an International Assembly representative, Bain represents Anguilla, Antigua and Barbuda, Argentina, The Bahamas, Belize, Bermuda, Brazil, Cayman Islands, Chile, Costa Rica, Cuba, Curacao, Dominica, Ecuador, Grenada, Guadeloupe, Guatemala, Haiti, Mexico, Montserrat, Netherlands Antilles, Panama, Paraguay, Peru, St. Kitts and Nevis, St Lucia, St. Vincent, Turks and Caicos, Venezuela and the Virgin Islands.