KRyS Global, a corporate asset recovery, insolvency, forensic accounting and business advisory services firm, has been recognized as a leading player in The Bahamas.
The firm has taken first place in ACQ magazine's 2012 ACQ Global Awards for Corporate Recovery and Insolvency Advisory Firm of the Year and Forensic Accounting Advisory Firm of the Year in The Bahamas.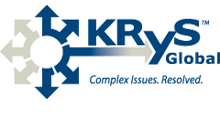 "We are delighted by ACQ's recognition of KRyS Global, and it further validates our caliber and reputation as a leading provider of services to the industry," says Edmund Rahming (pictured), managing director of KRyS Global Bahamas.
Launched in 2004, ACQ magazine is one of the most respected publications servicing the corporate finance sector. ACQ asked its readership to nominate companies that warranted special recognition for their commitment to excellence and quality on a global scale.
"The winners represent the very best in their field from around the world and KRyS Global truly deserves the accolades," says Jake Robson, editor in chief of ACQ. "It takes a lot of time, money and very hard work to build and maintain great brands; brands that can speak volumes in just a few syllables."
The full list of industry winners will be announced at www.acqmagazine.com and FT.com