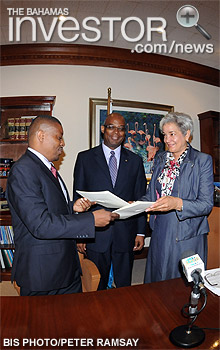 Ministry of Finance has finalized an agreement with the Inter-American Development Bank (IDB) to finance the technical cooperation component for the preparation of the policy and institutional framework for the development of small and medium sized enterprises (SMEs) in The Bahamas.
This agreement represents a financial contribution of $430,000 through Compete Caribbean which will be disbursed through the IDB, Zhivargo Laing, Minister of State in the Ministry of Finance, said March 21.
These funds will be used to contract and pay individual experts or consulting firms needed to help put in place a comprehensive new business support framework for SMEs.
Minister of State in the Ministry of Finance Zhivargo Laing (left) and IDB Bahamas representative Astrid Wynter exchange agreements on SME development. (Click picture to enlarge)