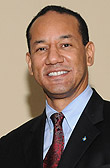 A leading lawyer has told compliance professionals that their sector is becoming tougher, with international and domestic scrutiny ramping up in recent years.
Senior partner at law firm Delaney Partners, John Delaney (right), recently addressed members of the industry at an event hosted by the Bahamas Association of Compliance Officers (BACO).

During his address, he spoke of the "culture and history of confidentiality" and highlighted how much the sector has changed over the past two decades, beginning with the introduction of a raft of new legislation in the late 1990s and at the beginning of this century.
"[Previously] there was almost no circumstances that a bank would disclose information. There was no means by which a third party could get information you held on behalf of another," he said. "The landscape is entirely different in recent times. It is a very deliberate machinery."
A combination of domestic legislation in conjunction with cross-border requirements and the work of international bodies such as the Financial Action Task Force has given rise to many circumstances in which financial institutions can be compelled to disclose information that would previously have been considered confidential, according to the former Attorney General.
"It is not an easy landscape any more," he said. "You need to ensure you are doing the right thing. You need to understand the scope of the disclosure compelled. If you step outside of that scope, you are in a danger zone."
Delaney warned compliance officers to "be alive to" the changes in the global industry.
cmorris@dupuch.com