Attorney General and Minister of Legal Affairs Carl Bethel led a Bahamian delegation to represent The Bahamas at the Financial Action Task Force (FATF) Plenary session in Paris last week, during which he addressed the task force.
The FATF has made the initial determination that The Bahamas has substantially completed its action plan, and merits an on-site assessment to verify strengthening of the effectiveness of its AML/CFT regime.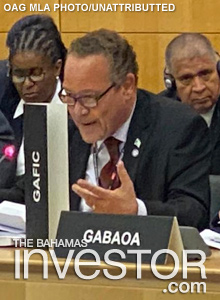 Pictured: Attorney General and Minister of Legal Affairs, the Hon. Carl Bethel, QC, addresses the FATF in Paris last week. (OAG MLA Photo)
The Attorney General stated: "The granting of an on-site visit is the first step in the exit process from the FATF Gray List. It is critically important that The Bahamas showed measurable and sustained progress in addressing the deficiencies in our anti-money laundering and counter terrorism financing regime, as well as in our combatting all identified risks offences."
He congratulated all the regulatory agencies and the financial services sector upon their achievements to date in addressing perceived deficiencies. He also urged all stakeholders to redouble their efforts to attain and maintain the highest standards of compliance and sound business management.
He said that it is important that all stakeholders, financial institutions and designated non-financial businesses and professionals continue to adhere to the new standards and laws and that regulatory agencies continue to improve in their prudential oversight of the financial services.
He added: "In the coming weeks before the on-site visit greater efforts are required to consolidate and document the important achievements made, and to sustain our progress.
"Of particular importance will be the investigation and identification of the proceeds of tax offences with a view towards the enabling of prosecutorial intervention in the event of any potentially false reporting under the CRS or the Substance Requirement Act," the Attorney General stated.
In its conclusions in reference to The Bahamas, the Financial Action Task Force (FATF) on its website reported February 21, 2020:
"In October 2018, The Bahamas made a high-level political commitment to work with the FATF and CFATF to strengthen the effectiveness of its AML/CFT regime and address any related technical deficiencies."
"The FATF has made the initial determination that The Bahamas has substantially completed its action plan and warrants an on-site assessment to verify that the implementation of The Bahamas' AML/CFT reforms has begun and is being sustained, and that the necessary political commitment remains in place to sustain implementation in the future."
"Specifically, The Bahamas has made the following key reforms: (1) developing a comprehensive electronic case management system for international cooperation; (2) demonstrating risk-based supervision of non-bank financial institutions; (3) ensuring the timely access to adequate, accurate and current basic and beneficial ownership information; (4) increasing the quality of the FIU's products to assist LEAs in the pursuance of ML/TF investigations, specifically complex ML/TF and stand-alone ML investigations; (5) demonstrating that authorities are investigating and prosecuting all types of money laundering, including complex ML cases, stand-alone money laundering, and cases involving proceeds of foreign offences; (6) demonstrating that confiscation proceedings are initiated and concluded for all types of ML cases; and (7) addressing gaps in the TF and PF TFS frameworks and demonstrating implementation."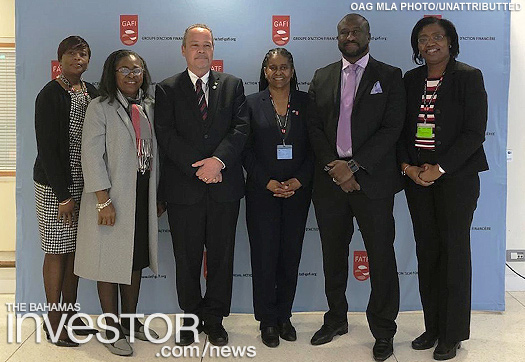 Pictured: Attorney General Carl Bethel (third left) and team, from left, Sherece Saunders, Central Bank; Cassandra Nottage, National Identified Risk Coordinator; Dawne Spicer, Executive Director of the Caribbean Financial Action Task Force; Garvin Gaskin, DPP; and Michelle Dean, Assistant Director of Legal Affairs, Office of the Attorney General. (Photos courtesy Office of the Attorney General and Ministry of Legal Affairs)