As offshore jurisdictions grapple with increasing compliance regulations, the newly installed executive team of the Bahamas Association of Compliance Officers (BACO) is seeking to foster regional unity designed to make The Bahamas and the Caribbean more market ready in the search for new business opportunities.
"Regional cohesion and assisting the financial services sector in ensuring that the business and products produced are resilient and meet international standards and mores must be the first order of business," says attorney Cheryl Bazard, who assumed a two-year presidency last month.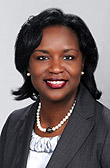 "We are quite aware that foreign policy decisions, economic relations, development cooperation and foreign investments inflows are hampered when a nation is deemed non-compliant. In these scenarios, the downsizing, or loss even, of financial institutions pose a real threat," she adds (stock photo).
BACO's EXECUTIVE TEAM
President
Cheryl Bazard
Executive vice president
Maria Dorsett
Vice president
Endric Deleveaux
Secretary
Esther Johnson
Treasurer
Todney Marsh
Assistant teasurer
Cheryl Fox
Education committee chair
Denora Marshall-McPhee
Administration committee chair
Shaniqua Woodside
Membership committee chair
Siobhan Lightbourn
PR/social committee chair
Rayneth Darling
"However, BACO has always been on the cutting edge and we are again seeking to take the lead by becoming a self-regulated organization that grows relationships not only regionally but internationally."
With the focus on managing regulatory risk expected to increase, compliance officers have a key role to play in ensuring financial institutions are far more transparent and able to withstand supervisory scrutiny locally and internationally.
Collectively, BACO's executive team has an average of 20 years each in the compliance field, in areas such as wealth management, private banking, commercial banking, trust and corporate, investment banking, gaming, and money services as well as consultancy services.
"As compliance practitioners it's imperative that we safeguard our institutions and by extension the industry from the dangers of abuse. For too long we've been reactive. It's time to get proactive," she said.