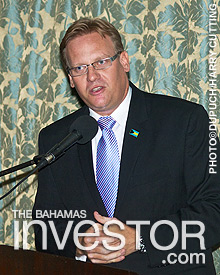 Pictured: Hon L Ryan Pinder, MP Minister of Financial Services speaking at The Nassau Conference, themed "Engaging in a Transparent World," held at The British Colonial Hilton Hotel in downtown Nassau. (Photo Harry Cutting/©Dupuch)
A willingness to engage directly with international regulatory bodies is key to the success of The Bahamas' financial sector, according to Minister of Financial Services Ryan Pinder, who said that the country has already seen the benefits of meeting with legislators and promoting its interests.
Navigating increased regulation and greater transparency can be difficult for smaller jurisdictions, but issues can be resolved through more productive and focused engagement said Pinder addressing the Nassau Conference at the British Colonial Hilton yesterday.

"Complying with these standards that define the global arena of transparency is a challenge for all jurisdictions worldwide," he said. "We must ensure we are engaging in a transparent world [and] setting the stage for further growth. As a financial centre we are positioned not only for compliance, but also for sustainable growth in the face of these new international rules."
"Engagement [with global regulatory bodies] should not be combative or confrontational. We must ensure the voice of the jurisdictions that are doing the business is heard and is listened to."
The Minister said engagement of this nature has proved successful in the past, with The Bahamas successfully negotiating an important exemption from the upcoming Foreign Account Tax Compliance Act that would prevent the creation of a trust registry.
He also spoke of the importance of the country's membership of bodies such as the G20 and its representation at international events where the global financial agenda is set. To ensure future growth, Pinder said The Bahamas is taking a "collaborative and progressive approach" and is committed to automatic information exchange.
But, while transparency has become the benchmark of the international financial community, Pinder warned that this approach was not always beneficial, saying that information exchange could expose some clients to a significant safety risk–especially those based in Latin America, where The Bahamas has been building its presence.
He suggested that bi-lateral agreements, negotiated country to country, could be a viable alternative.
Additional speakers at the Nassau Conference, which is sponsored by the Ministry of Financial Services and the Association of International Banks and Trust Companies in The Bahamas, included: Minister of State for Investments Khaalis Rolle; deputy chief executive of Society of Trust and Estate Practitioners George Hodgson; Bahamas Association of Compliance Officers president Shasta Treco-Moxey; and Tanya McCartney, past president of the Bahamas Institute of Financial Services.
cmorris@dupuch.com