Source:
Date:
Updated:

PRNewswire
Thursday, November 22, 2012
Thursday, November 22, 2012

MIAMI, Nov. 22, 2012 /PRNewswire/ — To celebrate Thanksgiving and the arrival of its newest cruise ship, Carnival Breeze, to Miami, Carnival Cruise Lines is donating 137,500 meals to Feeding South Florida and erecting a 50-foot-tall inflatable turkey atop the ship.
The 1,250-pound nylon turkey — wearing a straw beach hat and colorful Hawaiian shirt — is scheduled to be displayed on Wednesday, Nov. 21, in time for holiday festivities. The giant fowl will sit 14 stories above the waterline and gaze toward nearby McArthur Causeway until just before the ship makes its inaugural sailing from Miami on Thanksgiving Day.

Also on Wednesday, Carnival will present a charitable donation to Feeding South Florida that will provide 137,500 meals to families in need throughout Miami-Dade, Broward, Palm Beach and Monroe counties. Pembroke Pines-based Feeding South Florida is the largest food bank in the state and a member of Feeding America, the nation's leading domestic hunger-relief charity. In 2011, Feeding South Florida distributed more than 30 million pounds of food valued at almost $50 million within the South Florida community.
As part of its Thanksgiving celebration, the cruise line also is mounting a social media contest to give the giant turkey a moniker. The "Name the Giant Turkey Twitter Contest" will run from Nov. 21-25. To participate, contestants use the hashtag #TurkeyOnDeck. Carnival will pick the top three names on Monday, Nov. 26, with the winner announced later that day. The prize is a $500 gift card to fund the winner's next holiday party.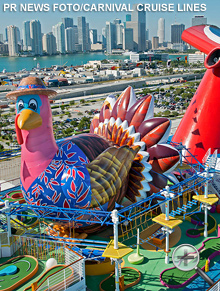 The new 3,690-passenger Carnival Breeze — the largest Carnival ship ever homeported in South Florida — arrives at PortMiami Wednesday, Nov. 21. The ship, which debuted this summer in Europe, brings on-board innovations including a variety of new dining, bar and entertainment options that are part of the company's groundbreaking $500 million fleetwide Fun Ship 2.0 product-enhancement program.
Following a two-day introductory cruise that departs Thanksgiving Day, Carnival Breeze will launch year-round six- and eight-day Caribbean cruises from Miami Saturday, Nov. 24.
For additional information and reservations, contact any travel agent, call 1-800-CARNIVAL or visit carnival.com.  Carnival can also be found on:
Twitter: www.twitter.com/carnivalcruise 
Facebook Fan Page: www.facebook.com/carnival 
Flickr:  www.flickr.com/photos/carnivalcruiselines/ 
YouTube:  www.youtube.com/carnival
Journalists also can visit Carnival's media site, www.carnival-news.com or follow the line's PR department on Twitter at www.twitter.com/CarnivalPR.
About Carnival Cruise Lines
Carnival is "The World's Most Popular Cruise Line®" with 24 ships operating three- to 18-day voyages to The Bahamas, Caribbean, Mexican Riviera, Alaska, Hawaii, Canada, New England, Europe, Bermuda, South America, Panama Canal, Tahiti, the Fiji Islands, New Zealand, Norway, the Baltic and the British Isles.  The company recently expanded its fleet with the launch of the 130,000-ton Carnival Breeze, which launches year-round six- and eight-day Caribbean cruises from Miami November 24, 2012, becoming Carnival's largest South Florida-based ship.  The company's 25th ship, an as-yet-unnamed 135,000-ton vessel, is scheduled for delivery in winter 2016.
Carnival is a proud member of World's Leading Cruise Lines. Our exclusive alliance also includes Cunard, Holland America Line, Princess Cruises, Costa Cruises and Seabourn. Sharing a passion to please each guest and a commitment to quality and value, World's Leading Cruise Lines inspires people to discover their best vacation experience. Together, we offer a variety of exciting and enriching cruise vacations to the world's most desirable destinations.  Visit us at www.worldsleadingcruiselines.com