The president of the Bahamas Institute of Financial Services (BIFS) Tanya McCartney along with executive director Kim Bodie and chairman of the Education Committee Jane Major made a courtesy call on the Minister of Financial Services Ryan Pinder last week.

At the meeting, Minister Pinder discussed his plans to advance the financial services industry, with a specific focus on education and training.
He expressed his interest in assisting organizations such as BIFS and other private training professional bodies in securing appropriate high-profile presenters to address topics of relevance to broaden the knowledge base of employees in the sector.
McCartney and her team thanked Minister Pinder for his support of their training activities in the past and for his recent presentation at BIFS seminars.
The team also presented the Minister with a package of brochures and publications that provide information on programmes and activities customized by BIFS to meet the needs to develop the industry's professionals.
McCartney said the BIFS needed government support to secure its own building to further expand training opportunities particularly and more specifically to the mentorship programme facilitated through BIFS for senior high school students.
Bodie advised that since launching the programme, six students have secured full-time employment in the sector, with others moving on to further their studies in financial services or related fields.
She informed Minister Pinder that since launching the programme some 63 students had graduated.
McCartney congratulated Minister Pinder on his victory in the general elections and his appointment as Minister of Financial Services and pledged BIFS support in moving the industry foreword through education and training.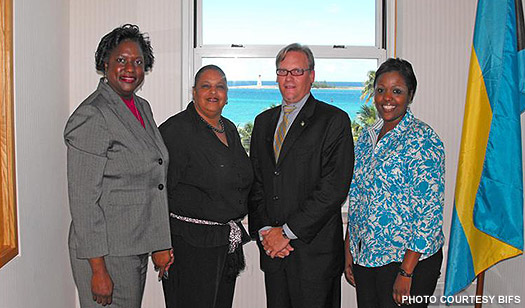 From left to right: Jane Major, Education Committee chairman, BIFS; Kim Bodie, executive director, BIFS; Ryan Pinder, Minister of Financial Services; and Tanya McCartney, president, BIFS. (Photo courtesy BIFS)