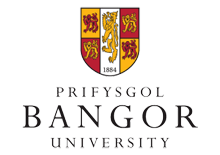 Representatives of Bangor University were in The Bahamas recently to renew ties with Bahamas Institute of Financial Services (BIFS).
It has been four years since the BIFS partnered with UK's Bangor University, firstly through their sponsorship of the 19th World Conference of Banking and Finance Institutes hosted by the Institute in 2011 and secondly through a MBA for BIFS to offer to industry professionals.
The Chartered Banker MBA programme is specially tailored to working professionals and available through a blended online learning platform.

This unique Chartered Banker MBA offers a dual accreditation through Bangor Business School and the Chartered Banker Institute in Scotland, and is the only qualification in the world to combine the MBA with Chartered Banker status.
Since the launch of the programme four years ago, five Bahamian candidates have completed the MBA with a Charter Banker designation. There are nearly 50 students currently enrolled.
Recently, representatives from the university visited the Bahamas and made courtesy calls on key industry stakeholders including the governor of The Central Bank of The Bahamas Wendy Craigg, Minister of Financial Services Ryan Pinder, as well as representatives of the senior management team of Scotia Bank.
In these meetings, Kim Bodie, BIFS executive director, emphasized the importance of the organization in encouraging partnerships with international universities.
The Institute she said is not a degree granting body, but seeks to identify programmes of higher education and training specific to financial services with international accreditation.
The partnership between Bangor University and the BIFS is key to the success of the implementation and development of the skills agenda within the financial services sector.
Bangor University is championing the continuing success of the partnership through a programme of initiatives that are being developed to support the Banking sector in The Bahamas, which will culminate in the launch of an honorary Annual Scholarship through BIFS in 2015.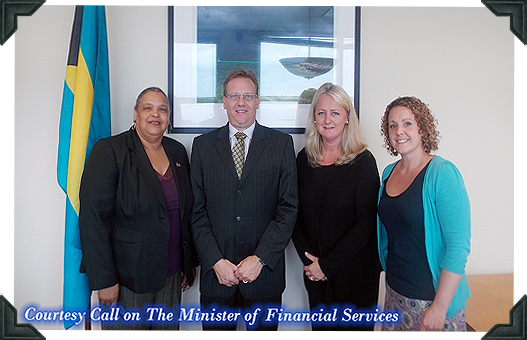 Bangor university representatives pay a courtesy call on Minister of Financial Services Ryan Pinder. Left to right: Kim Bodie, executive director of BIFS; Minister of Financial Services Ryan Pinder; Tanya Keith, business development director, Sales & Marketing, The Management Centre, Bangor Business School; and Lisa Jones, Chartered Banker MBA team leader & business development manager. (Photo courtesy BIFS)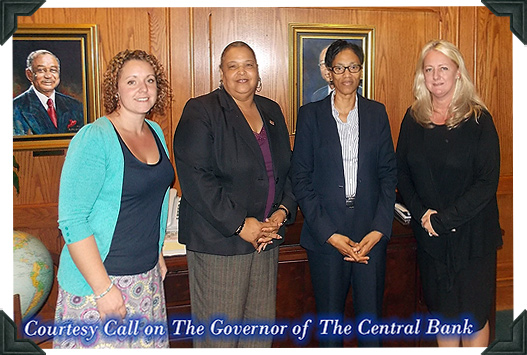 Bangor university representatives pay a courtesy call on Wendy Craigg, governor of Central Bank. Left to right: Lisa Jones, Chartered Banker MBA team leader & business development manager; Kim Bodie, executive director of BIFS; Wendy Craigg, governor of Central Bank; and Tanya Keith, business development director, Sales & Marketing, The Management Centre, Bangor Business School. (Photo courtesy BIFS)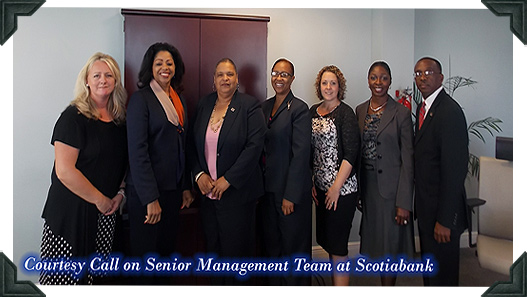 Bangor university representatives pay a courtesy call on Scotiabank
Left to right: Tanya Keith, business development director, Sales & Marketing, The Management Centre, Bangor Business School; Lonie Diggiss, manager, leadership & succession planning, Scotiabank; Kim Bodie, executive director of BIFS; Christine Archer, regulatory compliance manager, Scotiabank; Lisa Jones Chartered Banker MBA team leader & business development manager; Dorcas Cox, training manager, Scotiabank; and Todd Beneby, relationship manager, Scotia Private Client Group. (Photo courtesy BIFS)