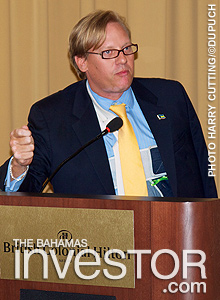 It is vital that The Bahamas' financial services industry exploits and encourages local talent as the global environment becomes more challenging, according to Minister of Financial Services Ryan Pinder (pictured).
Speaking at the opening of Bankers' Week yesterday, Minister Pinder said: "Our greatest asset is our ability to advance our human capital. We have to nurture that, we have to develop it, because that is the only way our industry will survive. Human capital is one of the most fundamental components of charting this new path."
The Minister praised the work of the Bahamas Institute of Financial Services (BIFS) in encouraging high school students to consider a career in the industry through its Grade 12 Financial Services Certificate programme.
He also said his Ministry would reward those companies with innovative training programmes and urged businesses to get involved by offering internships to the younger generation.

In particular, Pinder emphasized the need to encourage greater fluency in foreign languages as The Bahamas reaches out to emerging markets such as Brazil.
He said his Ministry's 10-year plan for the sector included the expansion of foreign language and cultural sensitivity programmes and languages offered would include Spanish, Portugese, French, German, Arabic and Mandarin.
This focus on new markets would help The Bahamas grasp unexplored opportunities and enhance its competitiveness, the Minister said.
"We have allocated significant resources to focus on Latin American markets," he continued. "We have to be nimble; we have to be progressive; and we have to be aggressive."
Bankers' Week is a three-day series of seminars and presentations organized by the BIFS. It runs until Thursday and is being held at the British Colonial Hilton, Nassau.
Additional speakers at yesterday's opening event included director of trade in the Ministry of Financial Services Viana Gardiner and Lawrence Lewis, senior partner at Deloitte.
cmorris@dupuch.com