Principals of Gonet Bank & Trust presented the government with a $200,000 cheque to support The Bahamas' pavilion at 2020 Expo Dubai.
Accepting the cheque on behalf of The Bahamas government, October 3, 2019, at the Office of the Prime Minister was Deputy Prime Minister and Minister of Finance Peter Turnquest.

Deputy Prime Minister Turnquest thanked Gonet Bank for its support. He said that the Bahamian people were also appreciative of the private banking sector for continuing to support the country.
"We are aware of the difficulties that the financial sector has faced in recent years and so we wish to thank you for your confidence in The Bahamas," said the Minister.
"Expo 2020 is a great opportunity for us post Hurricane Dorian to show that our country is still open for business. This is a part of the world that we have not historically pursued aggressively, so we are happy for this opportunity to expose not only our natural elements of sun, sand and sea but also our products and services."
Executive director of the Small Business Development Centre Davinia Grant expressed appreciation for the donation and said that this opportunity would showcase local entrepreneurs to the rest of the world.
"Our agency will be representing entrepreneurs so individuals will not only experience the Bahamas via art and culture but also via our products."
Her team will manage the retail store and will be assisted by the Bahamas Agricultural and Industrial Corporation (BAIC), The Bahamas Hotel & Tourism Association (BHTA) and the Tourism Development Corporation (TDC).
Gonet Bank & Trust is a Swiss Bank that has been operating in the Bahamas since 1982. The bank offers financial services to private clients and has been in the private banking sector for over 170 years.
Executive chairman of Gonet Bank & Trust Patrick Feuz said that they were pleased to be a part of this venture. "The Bahamas has been good to the bank since its arrival here, therefore we were excited for this opportunity to be good corporate citizens and gave back."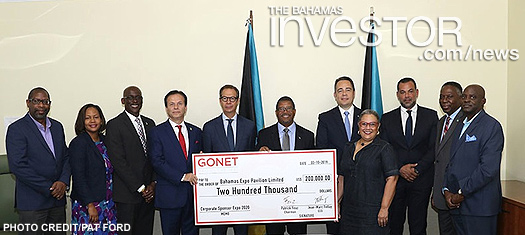 Pictured: (from left) Architect, Michael Diggiss; Executive Director/Small Business Development Centre Davinia Grant; CEO/Bahamas Chamber of Commerce Jeffrey Beckles; Ambassador to the United Arab Emirates & The State of Qatar Tony Joudi; CEO, Gonet Bank, Nicholas Gonet; Deputy Prime Minister and Minister of Finance Peter Turnquest; Executive Chairman of The Board of Gonet Bank Patrick Feuz; CEO/Executive Director, Tourism Development Corp Janet Johnson; Managing Director, Gonet Bank, Ahmed El Shahawy; Senior Advisor at the Office of the Prime Minister Joshua Sears; and Consultant to Bahamas Pavilion Expo 2020 Dr. Tyrone McKenzie. (BIS Photo/Raymond A. Bethel, Sr.)