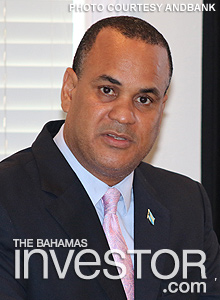 Pictured: Minister of State for Finance Michael Halkitis addresses Andbank's top executives November 2 at the Ocean Club Resort on Paradise Island. (Photos courtesy Andbank)
Speaking at Andbank's annual Worldwide Managing Directors Meeting held in Nassau earlier this month, State Minister for Finance Michael Halkitis said that The Bahamas' financial services industry must remain client focused and committed to continuing the culture of robust compliance.
With a series of presentations from The Bahamas' State Minister for Finance Michael Halkitis and Andbank Group CEO Ricard Tubau, among others, nearly 33 of the Andorran-headquarted bank's top executives explored current trends and future projections for the financial services industry.
Minister Halkitis told the group that the government was cognizant of the need for the financial services industry to be client focused.

"We remain committed to continuing the culture of robust compliance, more targeted marketing of products and more aggressive promotion of the jurisdiction's stability and our strengths as a reputable, sovereign location for service and as a safe and secure place for the domiciling of wealth," he said.
Halkitis was hopeful that the annual meeting, being held for the first time in The Bahamas, would serve to enlighten the Andbank global executives to the many benefits of not only the country's financial services sector, but also its tourism and real estate sectors.
These high-level meetings are held every year to help reinvigorate the private bank's vision for the way forward. During the opening, presentations on the state of the industry as it related to the bank were also made by Tubau, who highlighted the bank's commitment to continual growth every year. He was confident that The Bahamas was a strategic jurisdiction that held many opportunities for the future.
Minister Halkitis also talked about opportunities for the industry, adding that the local sector has been able to enter many new markets recently.
"We recognize that today's customers are opting to have greater control over the management of their assets," he said. "In our financial services sector we have been able to penetrate new markets through the introduction of the Investment Condominium Act and Regulations 2014 to create a new product – the Investment Condominium – which serves as a new wealth management tool tailored to meet the needs of the Latin American market."