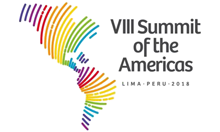 Summit of the Americas, scheduled for April 12-13, 2018 in Lima, Peru.
The CEO Summit, which will precede the two-day 8th Summit of the Americas attracts leading CEOs and heads of state from the region to analyze opportunities to promote economic growth and investment through public-private interaction under the Americas Business Dialogue mechanism.
The Americas Business Dialogue mechanism is a private-sector driven initiative facilitated by the Inter-American Development Bank (IDB) intended to foster a high-level and open policy dialogue among the most important business leaders on the region's priorities, challenges and opportunities for social and economic development.
Summit will be held under the theme "Democratic Governance Against Corruption."