Prime Minister Dr Hubert Minnis reassured key stakeholders in tourism that his government is committed to maximizing the economic benefits of the country's primary industry.
He was addressing the Bahamas Hotel & Tourism Association's (BHTA) Annual Meeting at the Imperial Ballroom, Atlantis Paradise Island December 7, 2018.

The Prime Minister underscored the importance of government and BHTA working together to achieve the maximum economic benefits of the tourism sector.
Upon describing the close alignment of objectives of both the government and tourism executives, he said: "Our administration is in the business of maximizing economic benefits for the citizens of the Bahamas; you are in the business of maximizing your profitability for yourselves and your shareholders."
"I leave you with the full assurance that our administration will work together with all of you in order to perfect such an alignment."
Noting that tourism is by far the largest sector of the Bahamian economy, the Prime Minister also touted it as the vital engine necessary for broad and sustainable economic recovery that will help to unleash more of the potential and entrepreneurial spirit of the Bahamian people.
"Toward this end, my administration is determined to keep our primary sector innovative, strong, vibrant, and growing in the face of increasingly powerful global and regional competition.
Tourism brings a host of unique features to our economy. It is by far our largest earner of foreign exchange. It is by far our largest source of employment. It utilizes the broadest range of skills available in the country. Tourism offers the broadest opportunities for linkages," he said.
Tourism is also the one area in which these Islands of The Bahamas have a longstanding, sustainable, and significant comparative advantage, the Prime Minster said.
"Most of all, when we do it right, tourism is a non-depleting resource. Whenever one sells a barrel of oil, there is one barrel of oil less to sell. Not so with tourism," he said.
The Prime Minister affirmed his belief in the vast potential of Bahamas tourism development, and remarked: "The Bahamas archipelago has the world's most brilliantly delightful weather. We have the world's most beautiful beaches. We enjoy the world's clearest ocean waters. And we are located right next door to the North American economy, the largest economy on earth."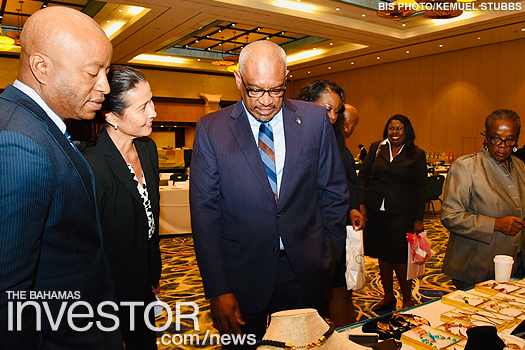 Pictured: Prime Minister Minnis views local products by Bahamian entrepreneurs at BHTA Annual Meeting at Atlantis December 7, 2018. (BIS Photo/Kemuel Stubbs)