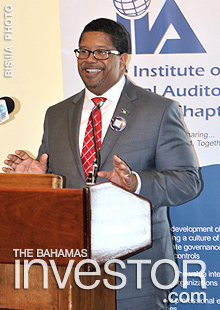 Pictured: Minister of Finance Peter Turnquest addresses the Institute of Internal Auditors May 25 in Nassau. (BIS/IIA Photo)
During his address to the Institute of Internal Auditors May 25, Minister of Finance Peter Turnquest said that the government is looking to strengthen the country's cadre of VAT auditors, as well as promoting "transparency, integrity and accountability" in business.
He said that since the introduction of VAT by the former administration, the government has outsourced its VAT auditing to an international team of auditors, which is costly.
"For the first time, we have implemented a strategic plan for the government to transfer those responsibilities to Bahamian professionals. Over the next few years, we will transition to a full team of Bahamian VAT auditors, creating new career paths for Bahamian professionals," he said

"We must ensure that we have a cadre of qualified financial and accounting professionals to enable the government to track and account for revenue and expenditure, and to uphold its commitments to fiscal responsibility."
The Ministry of Finance is currently recruiting 30 accountants: 15 of them will support the needs of the central government as it transitions to accrual accounting and undergoes public financial management reform; 15 of them will be trained specifically to join the VAT audit team.
He went on to emphasize the need to abide by the principles of "transparency, integrity and accountability in the ordinary course of business", and that The Bahamas' "needs tools to shape an ethical culture and to hold people accountable when they do not operate according to policy, protocols or ethical standards".
"Auditing, when used appropriately, helps to do just that. As an administration, we have prioritized internal auditing as one of several initiatives to show how serious we are."
"This administration has promised to make fiscal discipline a central component of our economic action plan. At the governance level, the landmark fiscal responsibility legislation, released for public consultation two weeks ago, is a major initiative that demonstrates our seriousness and commitment to living according to this ethical standards and fiscal responsibility principles."
He added that the Ministry plans to give more prominence to its internal audit team to make sure the government has and is abiding by the appropriate internal protocols and policies.
"Internal audits in the Ministry of Finance will not be hidden or buried, or sit on a shelf collecting dust," he said. "The findings of our internal audits will be acted upon, and the agencies who are the subject of audits will have to respond to the audit findings and address any deficiencies."
"This is an important area that we as a government must take a leadership role. If we set the standard it will filter down into the wider society in terms of the kind of discipline and ethical conduct we want throughout our country."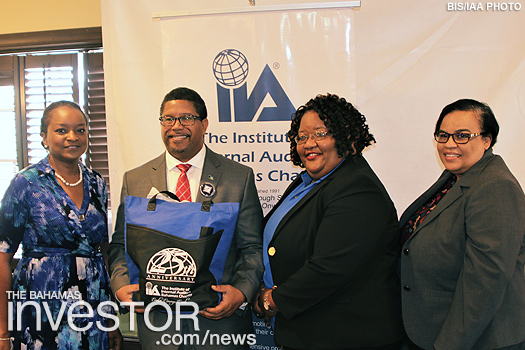 Pictured: Minister of Finance Peter Turnquest, receives a gift from the Institute of Internal Auditors. Pictured left to right: Anishka Collie, VP, CPE & Education; Turnquest; Davine Dawkins Rolle, president; and Cheryl Simms, VP Membership. (BIS/IIA Photo)