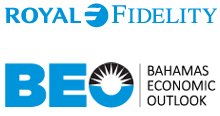 Deputy Prime Minister and Minister of Finance Peter Turnquest spoke of the need for fiscal resilience in light of global challenges this morning, as he delivered the opening address at the Royal Fidelity Bahamas Economic Outlook.
"This is a tremendous time of change," he told attendees at the one-day conference, held at the Baha Mar Convention Centre. "The financial services sector is undergoing major change as the international regulatory environment continues to evolve."

Addressing the recent decision from the European Union to include The Bahamas in its list of "high risk" jurisdictions, the Minister said: "In a competitive commercial environment where geopolitics are constantly in play, it seems as though the playing field will never be levelled."
"We have to be real about where we sit and firm in where we are. We are a clean, compliant and cooperative wealth management jurisdiction."

Turnquest (pictured) said the government is building resilience in the economy by reforming the public sector, supporting entrepreneurs and encouraging innovation within the private sector.
"We do not fear in times of uncertainty. We need only rally together and act with vision, integrity and courage. I challenge the industry to be creative and innovate and disrupt some things. That is where success is. For us to be competitive and sustainable as a financial services industry, we are going to have to keep moving our own goalposts."