Prime Minister Dr Hubert Minnis has said his administration will relax Exchange Control on capital transactions, namely on capital (investment) and current account (trade) transactions for small and medium-sized Bahamian businesses/enterprises (SMEs).
The changes, which will come into effect February 1 this year, are expected to assist SMEs and Bahamian investors by improving the ease of doing business for Bahamians and residents.

Prime Minister Minnis said recently that the reform was "long overdue" and is part of his administration's commitment to assisting SMEs which are a "critical part of the Bahamian economic structure, employing thousands of Bahamians".
"It is a modernization reform that Bahamian businesspersons have been asking for, for a long time," Prime Minister Minnis said during a press conference held to announce the liberalization of Exchange Control.
The media event was held in Office of the Prime Minister December 20.
Prime Minister Minnis was accompanied by his Cabinet along with other senior government officials including acting financial secretary Marlon Johnson; permanent secretary in the Office of the Prime Minister Jack Thompson; and senior policy advisor, Office of the Prime Minister, Joshua Sears.
"This reform is also part of the government's overall vision and plan for economic stability and growth," Prime Minister Minnis added.
The announcement came after consultation with the Central Bank of The Bahamas and discussions between Cabinet.
Prime Minister Minnis said as part of the relaxation protocol, Bahamian-owned businesses will be allowed to maintain operating deposit accounts of up to $100,000 in foreign currency at domestic, commercial banks, without prior reference to Central Bank.
These accounts will have to be exclusively funded from revenues earned in foreign currency.
Prime Minister Minnis said Central Bank approval will continue to be required for accounts with balances of more than $100,000 in foreign currency.
The Prime Minister explained the benefits of the relaxation in Exchange Control.
"If you have money abroad now, you can bring that money back home, deposit it in Bahamian banks maintain that foreign currency. That will have an impact on the foreign reserves."
"Bahamians generally like to touch, feel and see their money. Those monies will now be under the jurisdiction and the legal profile of the Bahamian authority as opposed to foreign jurisdictions, which you have no control of."
"Not only that, in terms of purchasing you can purchase without having the bureaucracy of any delays from the Central Bank of The Bahamas, you have the money available to you and you can utilize it."
"Bahamians have been asking for a long time to be allowed to retain their monies within The Bahamas. There is a lot of money outside of The Bahamas."
"We are a law-abiding nation. We came into the government preaching liberalization reform and we are saying you can bring your monies back home without any penalty (and) your monies will be under Bahamian jurisdiction, Bahamian laws."
"This is an initial step of liberalization. We are going first with the business sector and we will look at the non-business sector. That is what you call liberalization, removing in stages," Prime Minister Minnis stated.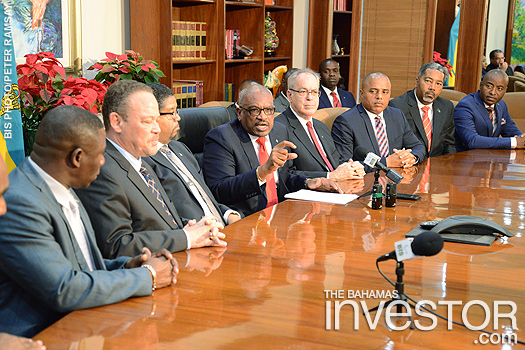 Pictured: Prime Minister Dr Hubert Minnis (centre, at microphone) addresses press at the Office of the Prime Minister, December 20, 2017. (BIS Photo/Peter Ramsay)