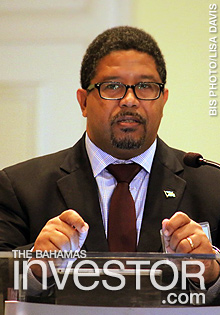 Pictured: Deputy Prime Minister and Minister of Finance Peter Turnquest addresses delegates during the 20th annual Grand Bahama Business Outlook. (BIS Photo/Lisa Davis)
During his keynote address at the Grand Bahama 20th Annual Business Outlook at Grand Lucayan resort February 22, Deputy Prime Minister and Minister of Finance Peter Turnquest outlined some of the initiatives the government is taking in order to remain transparent in its fiscal policies.
One of those initiatives relates to public financial management and reform.
"In this regard we are starting with an innovative programme for e-tendering for government contracts and services," explained Minister Turnquest.

"We launched a pilot programme two months ago, where we have an e-trade portal, where vendors can log on, put in their information and once that information is uploaded in that system, they (vendors) will receive automatic notifications of projects and services that are out for bid. They will be able to submit their tenders or responses electronically and they will be able to track the process online."
"They will be able to know every stage of the bidding process; they will know when it is closed, how many bidders bid on the work, they will know who received it and they will have a summary explanation as to why the contract was awarded to that person."
The Minister said this programme will be accompanied by legislation which will introduce a Tenders Review Board, which will act as a tribunal, where individuals who may feel that they have been aggrieved or have not been treated fairly, can appeal and be heard.
Taking a look at fiscal policy and transparency in government the Deputy Prime Minister pointed out that the choices and decisions the government makes in raising revenue, borrowing, allocating resources and its fiscal policy outcomes are at the core of the government's relationship with the Bahamian people.
The Deputy Prime Minister said that when his Government came into office in May of 2017, they were very forthcoming with the Bahamian people on the state of the country's fiscal finances and the need for a plan to immediately address the deterioration and re-establish policy credibility.
Minister Turnquest said that the government has initiated a number of projects to aid in their efforts to ensure that reliable, consistent data is provided to the Bahamian people.