Caribbean Travel Marketplace, the region's largest marketing forum, will return to The Bahamas for the second consecutive year when the Caribbean Hotel and Tourism Association (CHTA) stages the event from Jan. 31 – Feb. 2, 2017 at Atlantis, Paradise Island.
In addition to CHTA, Caribbean Travel Marketplace 2017 will be organized with the support of The Bahamas Ministry of Tourism, Nassau/Paradise Island Promotion Board (NPIPB), Paradise Island Tourism Development Association (PITDA) and The Bahamas Hotel & Tourism Association (BHTA).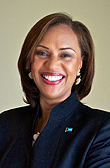 We are delighted to announce that next year CHTA's Caribbean Travel Marketplace will once again be hosted here on our beloved Islands of The Bahamas. We look forward to welcoming back those delegates who joined us this year as well as inviting new travel partners to enjoy our hospitality and see firsthand the exciting new products and experiences which The Bahamas and the Caribbean offer," said Joy Jibrilu (pictured), Director General, Bahamas Ministry of Tourism.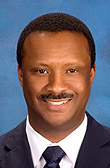 "The Bahamas Hotel and Tourism Association welcomes the opportunity to co-host Caribbean Travel Marketplace along with our partners at the Ministry of Tourism, NPIPB and PITDA. Marketplace is an invaluable forum for showcasing the incredible range of hotel and tourism-related offerings available in The Bahamas and throughout the Caribbean. Atlantis is the ideal host property for this event, providing one location for the more than 1,000 attendees to meet, network, and enjoy themselves. We will be offering attendees the opportunity to discover The Bahamas through pre- and post-trips to our Family Islands, Grand Bahama and to several new properties just completed or under development in Nassau and on Paradise Island," said BHTA President Stuart Bowe (pictured).
CHTA will be adding several new components to the event aimed at attracting even more buyers and suppliers.
This is an excerpt from Hotel News Resource as it appeared on April 18, 2016. For updates or to read the current version of this post in its entirety, please click here.

Continue reading this post >