Minister of Transport and Local Government Frankie Campbell has announced that the Bahamas Maritime Authority will hold its first Bi-Annual Maritime Week, May 6-11.
During the week of activities, the public will be made aware of career opportunities in the maritime industry. The Minister made the announcement at the Ministry of Transport on Monday.

"The focus of this maritime week is to raise national awareness of the employment opportunities that exist within the maritime sector to expand the career choice for our young persons beyond traditional sectors favoured by Bahamians," said Minister Campbell.
He said that there are various facets to the shipping industry of which the public may not be aware. He is optimistic that Bahamians would use this opportunity to acquaint themselves with the wide range of opportunities available in the industry.
"When you think of shipping, one may consider the ship structure and equipment onboard, but there are numerous auxiliary services ranging from naval architecture, hipping finance, maritime law, agency services, training, hotel services just to name a few," he said.
"We believe that The Bahamas has the capacity to produce a competent and qualified workforce to compete at the global level for shipboard jobs. Achieving employment within the sector would not only boost the nation's profile but also attract investment, which will generate economic benefits for the country."
Chairperson of BMA Denise Lewis-Johnson said that the week would feature a cross section of activities, and that the public is invited to participate in all of the events.
"We will commence the week with a church service at St Matthews Church and there will also be a Public Education Forum at the University of the Bahamas May 8. Daily assemblies will be held at numerous schools. We will take primary and high school students on tour of cruise ships," she said.
The students will have lunch aboard the Disney cruise ship The Enchantment of the Seas and two other ships. There will also be appearances on talk shows and board members will meet with industry partners to discuss improving the product.
Director of BMA Cardio Cox said that the events for Maritime week will also be mirrored in a few of the Family Islands.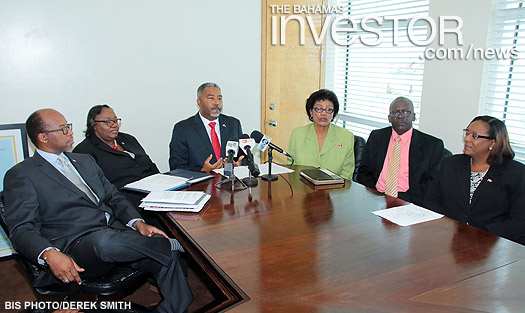 Pictured: Board Members of the Bahamas Maritime Authority (BMA) participate in a press conference. From left: BMA director Cardie Cox; BMA Chairperson Denise Lewis-Johnson; Minister of Transport and Local Government Frankie Campbell; Permanent secretary, Ministry of Transport and Local Government, Lorraine Armbrister; BMA director Dr. Shawn Thurston; and BMA director Pamela Gomez. (BIS Photos/Derek Smith)