Minister of Agriculture and Marine Resources Renward Wells said the goal of the Bahamas National Agricultural, Agri-Business and Marine Resources Expo for 2018 is to shine a spotlight on the nation's farmers and producers, as well as educate the population on the opportunities that exist in farming and fishing.
The Bahamas spends more than $1 billion annually on food imports, and Bahamians produce too little of what they consume, Minister Wells said at a press conference announcing plans for Expo 2018 at the Ministry April 4, 2018.

"The mandate of this Ministry is to change that balance to the positive, in favour of the Bahamian people."
He said the expo will connect farmers, fishermen and processors to educators, to market and to each other.
The opening ceremony is scheduled to take place April 13, 2018 at 11 am on the grounds of the Gladstone Road Agricultural Centre. The theme for Expo 2018 is "Together, We Grow" and it will continue until April 15.
Minister Wells said this year's expo promises to be a grand affair with lots of educational platforms and workshops.
Some of the presentations will include honey production, manufacturing of fruit preserves, bottling of tamarind sauce, operating a successful farming business, manufacturing yogurt, layer management and egg production, canning tomatoes and much more.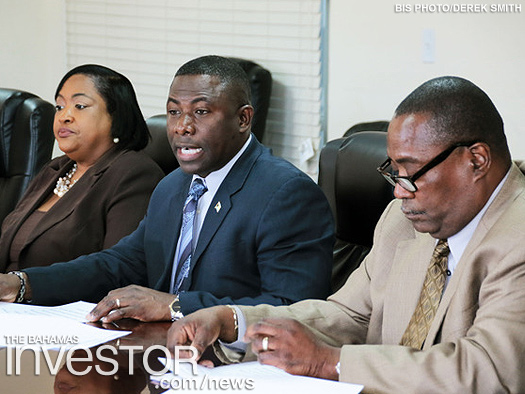 Pictured: Minister of Agriculture and Marine Resources Renward Wells (centre) announces plans for the Bahamas National Agricultural, Agri-Business and Marine Resources Expo for 2018 at the Ministry April 4, 2018. Also pictured are permanent secretary Phedra Rahming, left, and Undersecretary in the Ministry Alphaeus Forbes. (BIS Photo/Derek Smith)