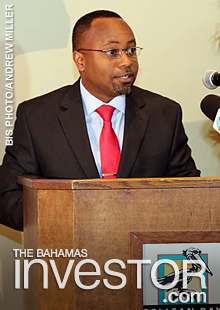 Pictured: Minister of State for Grand Bahama in the Office of The Prime Ministerr Kwasi Thompson gives the keynote speech at the official opening of the first Business-to-business Expo, September 28, 2017. (BIS photo/Andrew Miller)
Minister of State for Grand Bahama in the Office of the Prime Minister Kwasi Thompson has said that The Bahamas needs to rely less on tourism and diversify the economy.
In opening the first Business-to-business Expo at the Pelican Bay Resort September 28, Minister Thompson said that his office was mandated to focus on the economic revitalization of Grand Bahama.
"The government has a focused strategy to improve our economy here in Grand Bahama," said Minister Thompson. "Therefore we must ensure that local businesses and entrepreneurs are in a position to provide the ancillary services to our anchor companies within the industrial sector."

"And that's what a forum like this Business-to-business Expo is all about."
The Minister for Grand Bahama told Expo attendees that the revitalization of Grand Bahama will require a pluralistic approach, a part of which will include focusing on some big matters such as the opening and redevelopment of the Lucayan Strip, or focusing on iconic properties such as Xanadu and Royal Oasis. These, he said, are being aggressively pursued.
He said it will also require improving Grand Bahama's means of doing business, as well as actively marketing Grand Bahamas as a place to do business in the technology industry. He noted that the focus will now have to be on not just tourism, but on maritime and manufacturing.
"This seminar is only one component in our overall strategy," said Minister Thompson. "So, while we want new businesses to come to Grand Bahama, we also want to ensure that businesses are able to take advantage of every opportunity that already exists here in Grand Bahama."
"The government's role is that we are committed to making it easier for businesses to do business," Minister Thompson added. "The government is also committed to making it easier to be able to partner with international persons in order to make your business successful."
"So, I encourage all of you to be innovative in your approach to doing business. So, be creative, be innovative, take imitative, adjust yourself, find a problem to solve and if you do that, you will find a new business which you can open and be successful."
"We are moving towards an era of entrepreneurship, ownership, partnership and civic engagement. As we continue to work towards making Grand Bahama the centre for industry and innovation and the industrial hub it is destined to be, it is important that we embrace new ways of doing business."